The Best Way to Streamline Change Orders, Product Delivery, Proposal Creation, and Client Approval
ConnectWise Sell lets you handle your projects from start to finish electronically—no paperwork involved--from the convenience of your tablet or computer.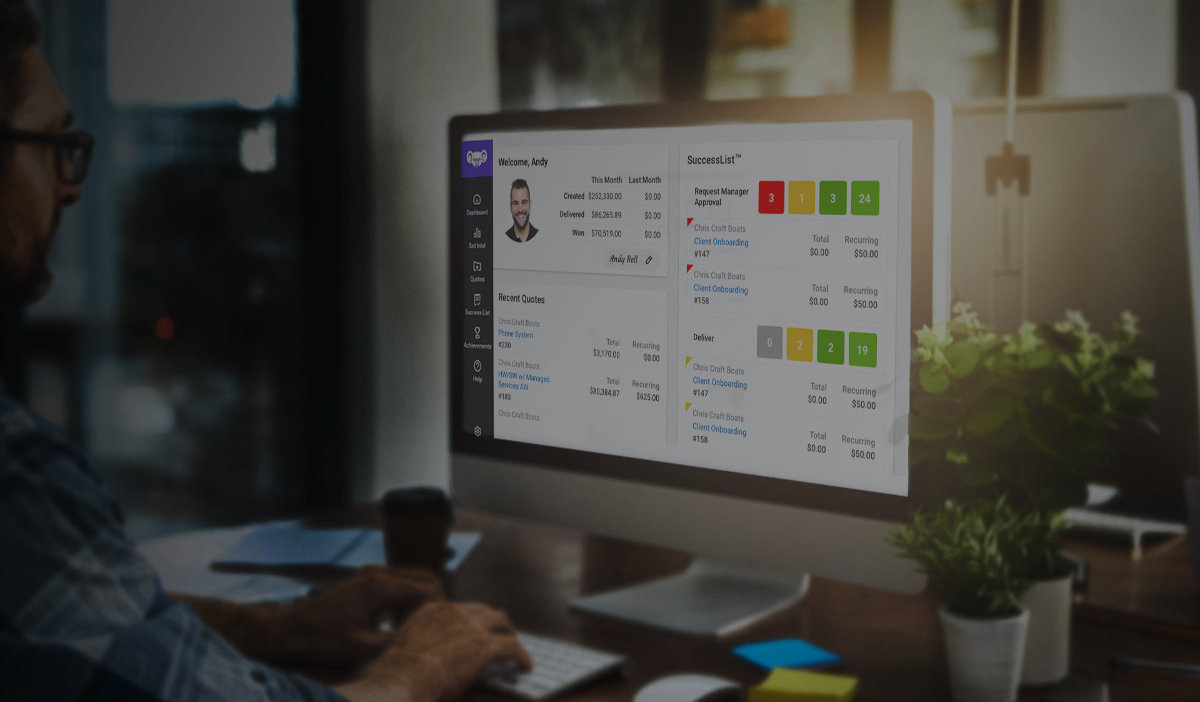 More about ConnectWise
ConnectWise transforms how technology solution providers successfully build, manage, and grow their businesses. Our award-winning set of software solutions provide a fully...

ConnectWise Company Info
Lisa Montgomery
·
January 23, 2018
When you combine the multiple facets involved in building or remodeling a house with the continual advancements in smart home technologies, one thing is clear: The project you quote and sell to your clients today will likely be much different than what you ultimately install. Change orders are a fact of smart home integration—they're a hassle, tedious, and have the potential to squeeze your bottom line if you're not careful.
If you're plugging these changes manually into a spreadsheet, mistakes can easily happen due to unintended human error. Not to mention the fact of how cumbersome it is to cart around all that paperwork from jobsite to jobsite. And to your clients, the paper trail can be perceived as a somewhat unprofessional way to conduct business.
The good news is, there are solutions that can streamline the entire quote and proposal process—electronically—right from a program you keep on your tablet or computer. ConnectWise Sell, for example, consolidates and organizes your bill of materials documents, credit card information, invoices, product procurement and delivery, change orders, and customer approvals and e-signatures in one easy to navigate and manage cloud-based software program. All of this crucial information goes where you go, so it's always at your fingertips, saving you valuable time and maintaining a productive and profitable workflow.
Time is money and one of the biggest hold-ups home systems integrators deal with are product ordering and delivery. ConnectWise Sell lets you fulfill your orders faster with just a click. Orders can be pushed directly from Sell into major distributor systems and monitored for shipping information. You'll be able to give your clients a firm delivery date and stay on top of deadlines. And should you need to make a change—a given—new products and pricing can be added on the fly and Sell instantly recreates the quote and proposal, giving your sales reps information that's always up to date and accurate.
Professional, timely, and clear communication with your clients can give your company a competitive edge. Not only does ConnectWise Sell allow your customers to have up-to-the minute information about every phase of their smart home integration project, but to also visualize the end result through visual presentations. Through Sell, you can create personalized client URLs containing videos, photos of products, and other documentation that your client can review at their leisure. A built-in e-signature section lets them say "yes," instantly, so you can keep the project moving along. Sell will let you know when a client views the information so you can follow up with a timely phone call.
Establishing a consistent base of recurring revenue is the goal of any home systems integration business, yet it can be difficult to implement. Similar to how ConnectWise Sell streamlines the sales and installation process, it can follow through with automatic payment collection and recurring payment setup. The system will notify you and your sales team when transactions take place, so you can more easily manage company finances and sales objectives. Then when the project is all wrapped up, use ConnectWise Sell to analyze the data, compare monthly and yearly business trends, and identify the best sources of revenue.
---
2019 State of the Industry Special Report - CE Pro Download
The custom electronics industry saw a healthy 8 percent growth rate in 2018, down slightly from the blazing 11 percent growth in 2017 but still admiringly strong. Our 2019 State of the Industry indicates that readers expect to see even more growth in 2019. Get your copy today.
---
About the Author
---
Lisa Montgomery has been a member of the CE Pro and Electronic House editorial teams for nearly 20 years; most of that time as the Editor of Electronic House. With a knack for explaining complex high-tech topics in terms that average consumers can understand, her style of writing resonates with people who are interested in adding electronic systems to their homes, but are unsure of the steps involved and the solutions available. From basic lighting control systems to full-blown automation systems, Lisa understands the home electronics market well, and is able to point consumers in the right direction on their quest for a smarter, more convenient, efficient and enjoyable home. Over the years, she has developed close relationships with key manufacturers and seasoned custom electronics professionals, giving her a keen sense of what home technologies are hot now and what is on the horizon. She shares this wisdom regularly through feature stories, product roundups, case studies technology spotlights and comprehensive guides and books. Have a suggestion or a topic you want to read more about? Email Lisa at lmontgomery@ehpub.com
Follow Lisa on social media:

Lisa also participates in these groups:
LinkedIn · Google+