Mine Shaft Themed Home Theater Pays Homage to Homeowner's Industrial Roots
Home of the Year Gold Winner for Home Theater ($25,000 - $75,000). Rustic home theater blends 4K projection, Savant control and Paradigm speakers to become a coal miner's dream space.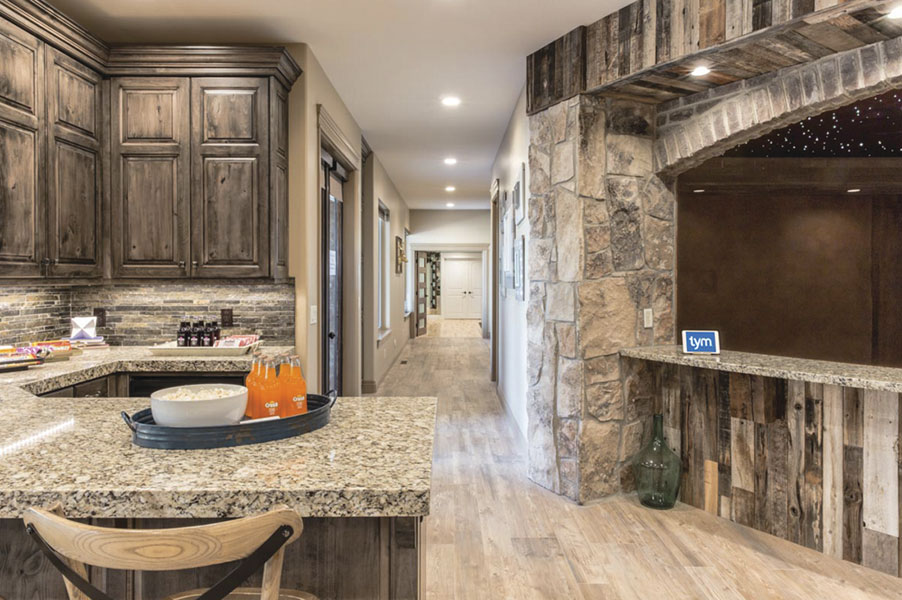 Lisa Montgomery
·
August 21, 2016
Home theaters offer a unique opportunity to create a space that reflects a passion, hobby, or, in this case, a family's long history in the coal mining business.
Explains home systems integrator Matt Montgomery from TYM Homes, of Sandy, Utah: "This homeowner's father was once a coal miner, and so he grew up with an appreciation and fondness for mining."
The father had incorporated materials and accoutrements reminiscent of coal mining into his own home, so his son — the owner of this award-winning project — decided to honor his family's lineage by making his home theater resemble a mine shaft.
Plus, the rough, natural materials incorporated into the amphitheater-shape space would just look darn cool and be totally unique from other home theaters.
Rustic and Ready for 4K
By working closely with the builder, Tree Haven Homes, of Bluffdale, Utah, the TYM team was able to blend cutting-edge home theater gear into an atmosphere reminiscent of an earlier time when pickaxes, not remote controls, were the tool of choice.
A Sony 4K video projector nests between rustic wood beams on the ceiling; the grilles of Paradigm speakers and subwoofers peek through locally-sourced, reclaimed barn wood on the walls; and sconces that resemble gas lanterns shed the perfect amount of light over the viewing area.
For this project, easy, intuitive control of the impressive assortment of A/V equipment is provided by a Savant system, which was programmed by Montgomery to prep the components and the room for a movie in seconds.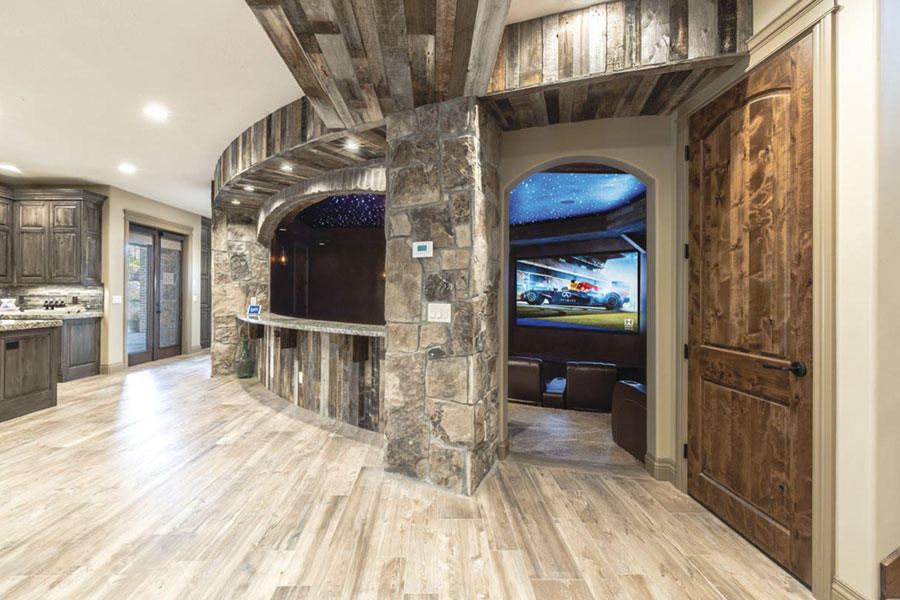 The preparations begin the instant the owners press Play on the Savant control app that's presented on an iPad stationed at the owner's favorite theater seat. It's pure 4K eye candy in this theater. Per the owner's request, TYM chose a trio of 4K equipment to ensure pristine pictures from start to finish. A Sony 4K media player feeds content to the projector, which throws Ultra High Definition images onto an acoustically transparent, 135-inch, 16:9 aspect ratio Peregrine AcousticPro-4K screen from Elite Screens.
Other video options are available too, including two Sony Blu-ray Disc players, two Apple TV units, and three DirecTV satellite boxes. The media player and the rest of the equipment are connected to an Atlona 4K video switcher so that the transition from watching video on Apple TV to something on the Sony media player happens seamlessly and effortlessly. The owners just tap a button on the Savant iPad app, and the Atlona component makes the switch — even directing content to eight other TVs in the 9,000-square-foot house.
Separate Yet Connected
This same app provides control over other aspects of their home — all from the comfort of the mine shaft, or from anywhere else they might roam. Dozens of dimmer switches, tied to a Lutron RadioRA 2 lighting control system, can be monitored and managed; several Visualint surveillance cameras can be accessed and viewed; a variety of fountains on the patio and in the yard can be controlled; and should someone ring the doorbell, the chime pipes through the home theater speakers, and the owners can converse with and see the visitor on the projection screen and converse with him or her via an iPad or smartphone.
"They can relax, cue a movie, and always stay on top of what's happening in other areas of their house," Montgomery says. "The Visualint cameras have intelligence software built in so they can be programmed to recognize a child at the swimming pool or a specific car in the driveway and trigger the Savant system to notify the homeowners with a message on their smartphones and tablets. It's the ultimate way to escape yet still stay connected."
Atmos Adds Dimension
The audio is just as engaging as the video, thanks to a Dolby Atmos surround-sound system comprising an Onkyo receiver and a 7.2.4-channel speaker configuration (seven in-wall and four in-ceiling speakers from Paradigm, plus two Paradigm subwoofers mounted behind the acoustically transparent screen).
TYM built custom backboxes to optimize the reference-level audio quality of the speakers and turned to the company's resident THX calibration expert, Greg Montgomery, to tune the audio system to project sound perfectly toward the owner's favorite seat, although the audio is never lacking elsewhere in the room.
Star-Studded Movies
With video and audio integrated beautifully into the space, the project could have been complete, but TYM had one more trick up its sleeve — but not without some persuasion by the owner's wife.
"She had seen a star ceiling in another theater, and asked as the room was being buttoned up if we could create one for her," Montgomery says.
---
---
With the help of the builder, more than 26,000 linear feet of fiber-optic strands were hand-placed into the ceiling's sheetrock to create 1,000 twinkling stars. TYM's creative director then painted a mural of the cosmos to evoke the appearance of the night sky.
As are the other lights in the theater, the fiber-optic stars are connected to the RadioRA 2 system, which can be operated through the Savant app. The star-studded ceiling was the icing on the cake in this home theater, where technology and design unite to create a one-of-a-kind entertainment experience.
State-of-the-art equipment, from 4K servers and projectors to Dolby Atmos receivers and speakers, mingle easily with barn wood and gas lanterns, while a simple, iPad-enabled control system helps set the tone for a magical movie night under the stars.
Systems & Equipment
Video Projector: Sony
Projector Screen: Elite Screens
Speakers: Paradigm
A/V Receiver: Onkyo
Video Switching: Atlona
Home Control: Savant
Lighting Control: Lutron
Surveillance Cameras: Visualint
Systems Design & Installation: TYM Homes, Sandy, Utah, tymhomes.com
Builder: Tree Haven Homes, Bluffdale, Utah, treehavenhomes.com
---
We're Looking for Your BEST Projects
Don't miss your chance to enter to win a 2019 BEST Projects Award. We'll be announcing winners at a special Gala event at CEDIA EXPO. We can't wait to see what you've been up to this year! Enter your projects now.
---
About the Author
---
Lisa Montgomery has been a member of the CE Pro and Electronic House editorial teams for nearly 20 years; most of that time as the Editor of Electronic House. With a knack for explaining complex high-tech topics in terms that average consumers can understand, her style of writing resonates with people who are interested in adding electronic systems to their homes, but are unsure of the steps involved and the solutions available. From basic lighting control systems to full-blown automation systems, Lisa understands the home electronics market well, and is able to point consumers in the right direction on their quest for a smarter, more convenient, efficient and enjoyable home. Over the years, she has developed close relationships with key manufacturers and seasoned custom electronics professionals, giving her a keen sense of what home technologies are hot now and what is on the horizon. She shares this wisdom regularly through feature stories, product roundups, case studies technology spotlights and comprehensive guides and books. Have a suggestion or a topic you want to read more about? Email Lisa at lisa.montgomery@emeraldexpo.com
Follow Lisa on social media:

Lisa also participates in these groups:
LinkedIn · Google+