Elan, the home control brand for Nortek Security & Control (NSC), has introduced a full range of new surveillance cameras, an NVR (network video recorder) and an assortment of compatible accessories.
The company says the lineup delivers advanced analytics, auto-configuration capabilities and multiple form factors to suit every project. The offerings include six outdoor IP cameras, one 8-channel NVR and accessories.
High Intelligence Built into New Cameras
In particular, the new surveillance products feature built-in advanced IntelliVision analytics for more precise person and vehicle classification plus advanced object detection, which provides personalized and informative alerts to the end user, according to Elan.
The company says customers will experience greater security through a single, personalized system, and advanced privacy features via deep software integration.
"We are kicking off 2020 with some great updates to the award-winning Elan surveillance line, providing a faster install for dealers and rich features for homeowners – from receiving a push message when a vehicle is detected, to setting privacy mask area right in the Elan app," says Richard Pugnier, vice president of marketing at NSC.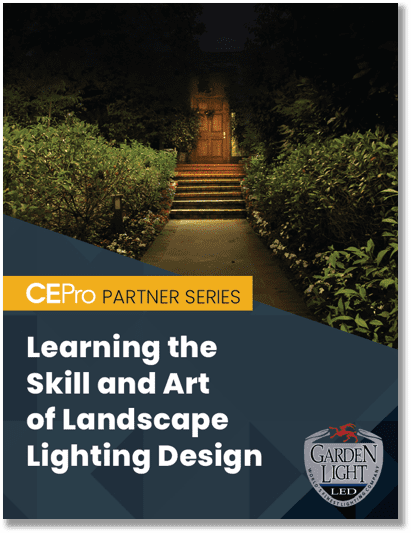 Experts recommend landscape lighting design as an entry point for integrators into the revenue opportunity of home lighting. Check out our new resource for tips and best practices. Download "
Learning the Skill and Art of Landscape Lighting Design
" today!.
The 8-channel NVR can be mounted in a structured wiring can or a rack shelf. Along with the new cameras, the system integrates quickly and completely as part of a whole-house or property-wide Elan intelligent system, the company says.
"All new models run NSC's IntelliVision video analytics and allow you to adjust the motorized zoom and focus from the Elan app almost anywhere in the world," adds Andy Spalla, product manager for Elan surveillance.
NSC acquired IntelliVision, a leading AI, smart camera and deep learning-based video software provider, in 2018. Fruits of that acquisition showed last year when Elan incorporated analytics and facial recognition into its new Intelligent Touchpanels and Video Doorbells.
Owner- and Dealer-Friendly Features
Integration Notes and User Guides for the new surveillance products are available to authorized Elan dealers via the new, recently announced Elan Management Cloud (EMC).
EMC provides systems integrators with real-time device health monitoring, device state reporting, remote management, automated troubleshooting, issue resolution, specialized customer relationship management and more – all within a singular interface, the company notes.
With real-time, real-status monitoring, dealers can receive push notifications if a device faults, allowing them to troubleshoot the issue before their customer even notices, Elan points out.
Dealers can learn more about the outdoor IP cameras and other surveillance products here. In reference to their weather-hardiness and reliability, Elan's website notes:
"Elan outdoor cameras are IP66 rated and built to withstand nature's strongest environments. Durable by design, this camera is rated to -40 Fahrenheit. Instead of using a cheaper fiberglass PCB requiring an internal heater as found in competitive brands, Elan cameras use a multi-layer aluminum PCB. Along with an improved LED layout, these features help dissipate heat evenly throughout the camera without creating hotspots. This helps increase camera life expectance and reduces power consumption."