Loupe is giving residents at Realm Condominium in Buckhead, Atlanta a whole new way to engage with art. Having recently been incorporated into TK Elevator's API along with Desk Intelligence, the installation builds upon TK's infotainment offerings aimed at enhancing the tenant experience through a more immersive and engaging elevator experience.
An Atlanta-based, visual content streaming platform, Loupe provides a constant stream of themed artwork that can be used to support a property's unique identity and design aesthetic, as is the case with Realm. According to Loupe, this is made possible through the company's proprietary classification system for a rapidly growing art catalog.
This catalog includes fine art painting, photography, mixed media, motion, digital and NFT art, in combination with human-curation by the Loupe programming team.
Tapping into the Desk Intelligence, meanwhile, is a building operations platform specializing in luxury high-rise residential buildings. Using a modular architecture, Desk Intelligence thus delivers uniquely custom integrations to elevate the residential experience.
"We are very excited to see this technology in action at Realm," says Jeremy Rainwater, CEO Americas at TK Elevator. "Our connected elevators already provide our customers with data to run their building operations efficiently.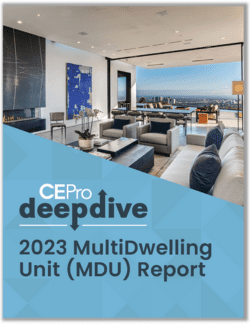 Discover why MultiDwelling Units (MDUs) have major appeal for custom integrators and what they're doing to address this market.
"Now, their elevator passengers can enjoy specially curated art as they travel through the property. APIs are gateways for innovation; and we are working together with innovative companies like Desk Intelligence and Loupe to create digital solutions that reimagine the future of buildings.
Finding New Ways to Enhance Resimercial Environments
Finished in 2006, the Realm Condominium is a luxury building rising to 30 stories and standing 373 feet tall. The building features a 24-hour front desk, private pool and amenity deck. It also features skyline views, firepit, two resident lounges with catering kitchens, lush landscaping with serene gardens and fountains. It also has a two-level fitness center with streaming audio and Apple AirPlay. What's more, the Desk Intelligence resident mobile app connects it all.
Jessica Alexander, president, Realm Condominium Association, adds, "Custom integrations like Desk Intelligence, Loupe and TKE are a perfect example of form and function. Themed art collections from Loupe keep our residents engaged; [while] real-time elevator information keeps residents informed of potential delays and Desk Intelligence provides a central platform to manage the experience. These innovations enable the Board of Directors to deliver on their goal of providing unique resident experiences."
"We welcome the opportunity to feature our acclaimed artists to modernize and transform shared common areas," says Andy Hunter, Loupe's chief revenue officer. "Our Loupe for Business app combines the power of art and technology and makes it easily accessible for our partners to enhance and elevate residential environments."
Another version of this article originally appeared on our sister site Commercial Integrator on January 5, 2023. It has since been updated for CE Pro audiences.
If you enjoyed this article and want to receive more valuable industry content like this, click here to sign up for our digital newsletters!