Nice/Nortek Control have partnered with the Gary Sinise Foundation to simplify the daily life of a wounded veteran through the power of smart home technology.
With ELAN control systems installed by dealer BRAVAS Austin, retired U.S. Army Staff Sergeant (SSG) Jason Tabansky can now focus on spending more time with his wife and starting a family.
SSG. Tabansky's Service
According to a joint press release, SSG. Tabansky was drawn to the military after reading "Chicken Hawks," a book centered on helicopter crews during Vietnam. It's this book that inspired him to embark on a major commitment to the country by enlisting in the U.S. Army as a 67U, CH-47 Chinook helicopter repairer back in 2000.
After September 11, 2001, he deployed as part of Operation Enduring Freedom and later, deployed a second time to Iraq in support of Operation Iraqi Freedom. He helped monitor the quality and assisted in maintaining the helicopters.
In 2015, SSG. Tabansky was performing a routine Chinook helicopter demonstration in London, England when he slipped and fell while climbing down the aircraft, injuring his right shoulder. After several visits to the ER, SSG. Tabansky was sent away with medication to dull the pain. Days later, he found his body was going numb and became paralyzed from the chest down, including both of his hands.
Discover where the home theater market stands now that the pandemic is over, and the emerging trends integrators are seeing in the industry today.
The Tabansky Smart Home's ELAN Controls
"SSG. Tabansky and his wife can now rely on their new ELAN control system to make mobility around the house easier, and to ease any daily struggles SSG. Tabansky may encounter," the press release says.
Simple tasks like turning on the lights, adjusting the shades, controlling the home climate, or accessing entertainment-like audio and video are now easier with full automation providing one-touch access to each of these functions.
An ELAN video doorbell and cameras help boost security around the house. Inside, lighting is provided by Lutron and products are powered by Panamax power conditioners.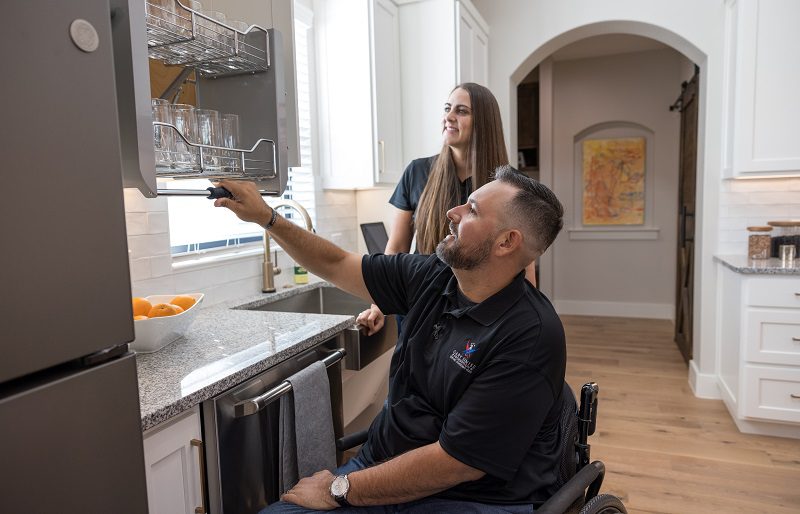 The Tabanskys can utilize the ELAN control systems mobile app for all interfaces. All products were selected and installed by BRAVAS Austin.
"Courageous and inspiring veterans like SSG. Tabansky deserve every effort possible to improve their quality of life as they heal and move forward," said Richard Pugnier, Vice President of Marketing & Education at Nice/Nortek Control.
"One of the most fulfilling things we do is give back to our nation's wounded heroes by working with the Gary Sinise Foundation.
"We're also incredibly fortunate to work with such remarkable dealers like BRAVAS Austin, who double down and deliver on their commitment through their time and expertise on these incredibly important projects."
"With Nice/Nortek Control, the Gary Sinise Foundation and countless others, we're honored we were able to come together to participate in the building of this smart home as our way of saying thank you to a hero like SSG Tabansky for his sacrifice," said Joel Marinaccio, the Operations Manager at BRAVAS Austin.
"After Nice/Nortek Control asked us to provide our services and expertise, we found the project was incredibly rewarding and we're eager to continue servicing the Tabansky family's smart home for years to come."
Read Next:
If you enjoyed this article and want to receive more valuable industry content like this, click here to sign up for our digital newsletters!