Residential integrators are often wearing multiple hats when they arrive at a jobsite. Not only are integrators hired for their AV expertise, but they also often dabble in electrical, lighting, security, and other categories that stretch far beyond what many homeowners may realize.
Takeover jobs are a perfect example of this, as many times integrators are hired for one aspect of a job only to be relied upon for way more than was originally discussed.
So here's a brief look at three CE Pro Home of the Year Award-winning installs that do a great job of showcasing what integrators have to offer homeowners, as described by Constantinos Sandoukas, founder of frayednot and contributor to CE Pro's "Neat-O!" page which often highlights creative cleanup work.
Gold Winner: "Dublin" 6,500-Square-Foot Estate
This 6,500-square-foot beach home was not only billed as "move-in ready" but "smart home ready" when in actuality "there was a bunch of wire in the attic mechanical room that all went somewhere, but no one knew where," he says. "Not a single service port in the rooms, not a single speaker cutout."
Plus there was no margin for error, he adds, because the home was already finished. The integration team spent days toning and locating the data runs and speaker runs to each room, Sandoukas says, and managed to cut spot-on speaker rings as if they had been done during rough-in.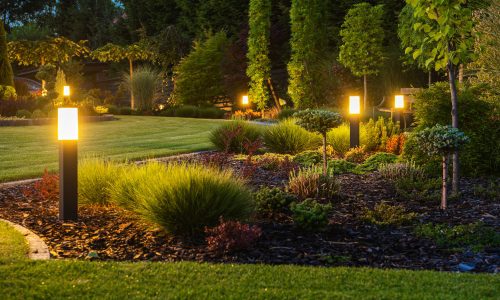 We are thrilled to present a lecture topic that delves into the connection between light and our surroundings, exploring how landscape lighting can transform a space from ordinary to extraordinary. Our keynote speaker, Janet Lennox Moyer, will share her extensive knowledge on the complexities of landscape lighting in design, commissioning, and maintenance and provide participants with the tools to identify good versus bad practices and techniques. Join us for an enlightening session that will unlock the secrets to success in landscape lighting design with one of the industry's most respected experts, Janet Lennox Moyer.
Register Now!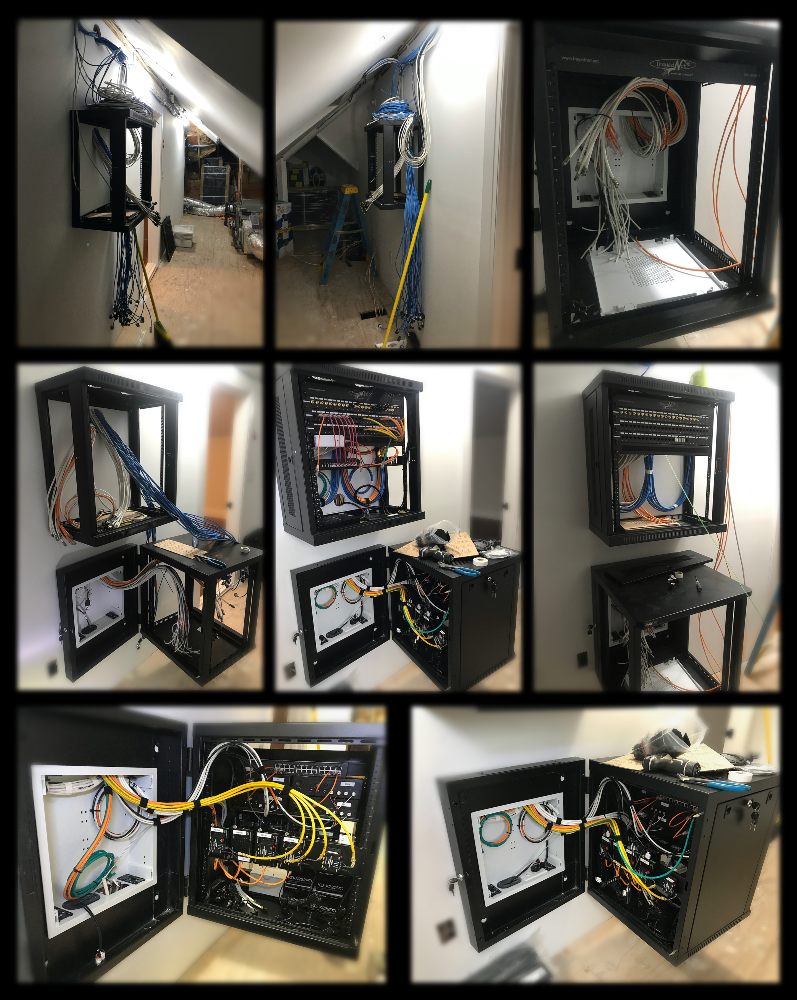 The installers moved on to data runs, for which it needed to pull new runs for Wi-Fi coverage plus all the TV locations, because there weren't any for displays. Once they established a route from the attic, where the distribution racks reside, to the crawlspace under the first floor, frayednot spent a few days pulling cable for access points and TVs. The latter also required pulling, fishing and snaking the proprietary optical cable for all the Samsung Frame TVs that were being installed throughout the home.
"We added a second home base location for the first-floor TVs to house their One Connect boxes along with power management, control and some audio zoning amps for those TV locations with a link back to the main attic distribution. Although we spent about 14 days on this project, our end result left the customer amazed on how we accomplished all we did without any patchwork aftermath," Sandoukas reports.
Besides the Samsung sets, other AV includes Origin Acoustics/B&O BOC86 series speakers, Sonos and SunBriteTV, plus URC controls.
Silver Winner: "MackAttack" 12 Day Rush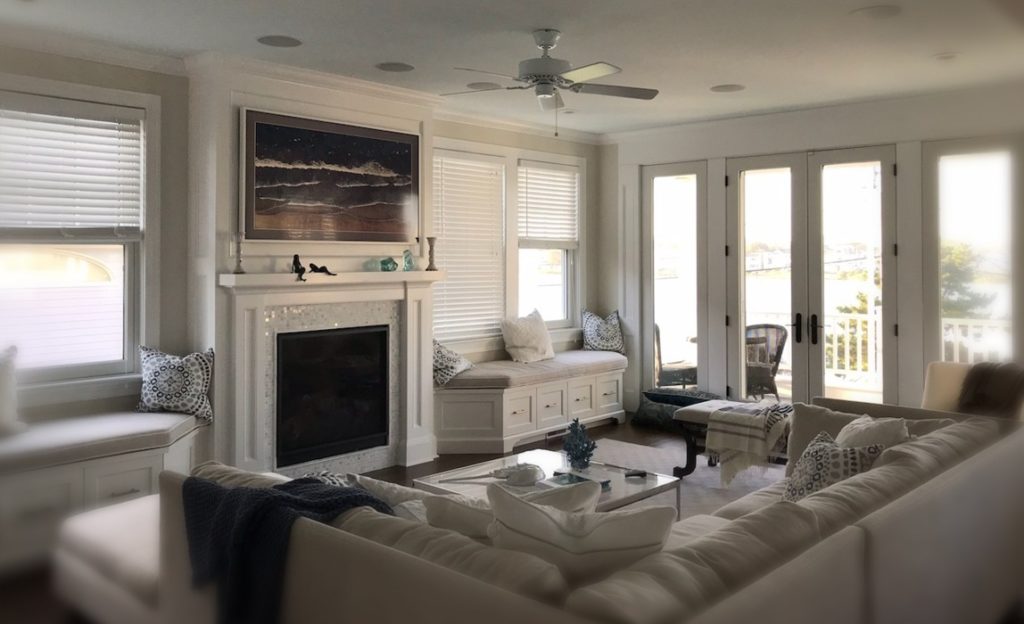 This project needed to be completed in a 12-day timeframe. Equipment was a decade old, half the speakers didn't work and much of the gear was a fire hazard, Sandoukas says.
The team pulled out all the existing equipment, cleaned up the existing wiring and retro-wired via crawlspaces, knee walls and cavities, he explains. New wiring was pulled for the Ubiquiti wireless network, Frame TVs, and Origin Acoustics landscape speakers and SunBriteTVs comprising outdoor AV zones.
Meanwhile, frayednot installed multiple fan systems to draw out air from the understairwell space via an elevator shaft cavity to keep it properly cooled. The team built a 32U rack unit on-site in the tight quarters.
Bronze Winner: Dovetail Designs Saves Closet Space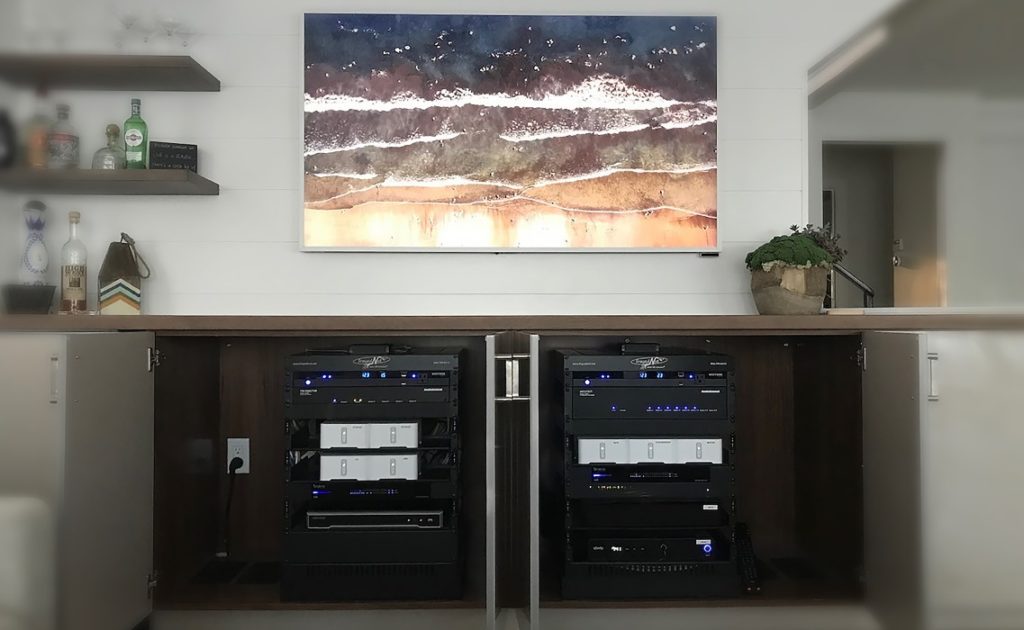 This project is a beach home for the designer frayednot commonly works with, which helped since she understood what the integrator was looking to accomplish. Distribution gear was kept in its garage spot, but racks needed to be moved in case of flooding and storm damage.
To keep from using valuable closet real estate, frayednot worked with the carpenter to convert a living room cabinet to accommodate two slide-out racks and proper airflow.
Prewire for the 40% gut/renovation project took about a week, overcoming difficult pathways and wiring routes. Now, AudioControl amplification and Origin Acoustics speakers providing audio in every indoor space and newly-well-protected outdoor AV areas.
If you enjoyed this article and want to receive more valuable industry content like this, click here to sign up for our digital newsletters!