Stewart Filmscreen is no stranger to showcasing dazzling video products at CEDIA Expo as one of the industry's long-time go-to projection screen manufacturers – heck, one year the company highlighted a frame featuring Swarovski crystals.
This year was no different, although integrator attendees nearly missed out on seeing something that surely will be an attractive addition to their portfolios.
The veteran projection screen manufacturer had a one-of-a-kind debut in its booth at the Colorado Convention Center, with its Balón Edge screen that CEO/owner Mary Stewart said was the only one made in the world.
"We had to rush to make this for the show," Stewart said. "I actually didn't see it until it went up. Everybody else saw it and I wasn't there, so I said, 'Does it look good?' And they said, "Mary you're going to love it.'"
Now Available With and Without Borders
Stewart couldn't help but show her enthusiasm for the new version of Balón, which had previously been shown in a Balón Borderless version.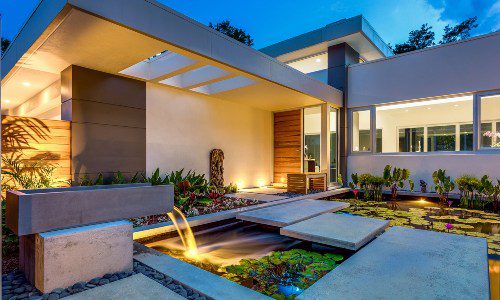 Landscape and architectural lighting create a magical and elegant ambiance for homeowners. The outdoor lighting industry has always been a phenomenal one and continues to grow in popularity. Now is the ideal time to learn more about this rapidly growing and highly profitable industry. Join our panel of esteemed lighting experts that will dive into why it's time for integrators to rethink their role in the outdoor lighting industry.
Register Now! 
The Edge itself refers to the .4-inch frame, available in VeLux finish, whose light-deadening properties take care of overscan light absorption, as well as brushed aluminum.
For the material, integrators can meet clients' room environment needs with more than 30 screen fabric options at their disposal, Stewart says.
She says the Balón Borderless edge-less screen was a hit with design-minded customers who liked the "floating in the air" look of the image, but it's not for everyone so the company came up with the slim-edge version.
"Other people want to have that defining frame, and part of it is when you put the black border on there it gives perceived contrast too," Stewart said. "But we wanted to make it extra thin."
Large Sizes, Custom Fabric Choices
Regarding the screen size, on the other hand, Stewart Filmscreen goes more like the extra mile to enable its dealers to easily install really large screens that don't compromise on quality.
Stewart says the company can manufacture a 16-foot-wide screen (9-foot-high) without seams in its reference-grade fabric choices.
"And these are the screen materials that all the movie studios use," she adds, noting that besides being in commercial cinemas, the Hollywood types who make the movies also want reference-grade materials in their personal screening rooms at home.
The screens roll up for compact shipping and come with EZ Mount brackets and hardware. The Stewart 16K+ flexible fabric materials can also be perforated, so the Balón Edge can act as an acoustically transparent screen in home theaters where the design calls for loudspeakers to go behind the projection screen.
Additionally, for a bit of extra flair, LED lighting to glow around the screen is an option.
Base price on the Balón Edge is $2,913.
Besides the Balón Edge (and Borderless showing in the booth as well), also new for the show was Stewart's redesigned model A of the Luxus retractable electric screen.
"We went all out on this and we have this beautiful, modern looking case," Stewart says of the enclosure housing for when the screen is stowed. "I'm a person who loves to decorate, and this is a piece of art, I would love to have this in my house."
If you enjoyed this article and want to receive more valuable industry content like this, click here to sign up for our digital newsletters!