Exhibiting in booth #42737 at CES 2020, new Legrand Smart Lighting products are making their American debut.
Legrand states that its latest smart lighting products are a result of design collaborations with Netatmo, a French company Legrand acquired in late 2018.
The result of the collaborative design efforts is a selection of products that provide users with instantaneous monitoring of power consumption, and remote surveillance control over various functions from anywhere. These options include the ability to control a home's lights, shades, sensors and other appliances via the Zigbee 3.0 protocol.
"Legrand's expertise in switches and outlets, combined with Netatmo's innovative smart technology, delivers the capability to build a smart electrical installation right from the design phase," says Yann Morvan, director of IoT strategy, Legrand North & Central America.
"With this collaboration, Legrand and Netatmo are bringing the U.S. market an unparalleled new level of intuitive, secure and flexible lighting products designed with the whole home in mind."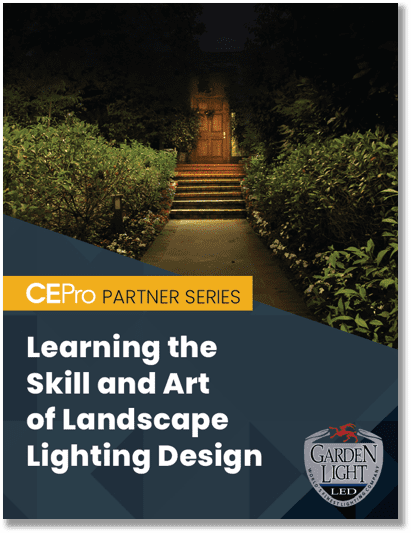 Experts recommend landscape lighting design as an entry point for integrators into the revenue opportunity of home lighting. Check out our new resource for tips and best practices. Download "
Learning the Skill and Art of Landscape Lighting Design
" today!.
Smart Lighting Complements Home Spaces
Legrand points out that Netatmo works with companies in the building industry through its "With Netatmo" partnership program to help develop smart building technologies that easily integrate into residential environments.
The products are designed to install into new construction and retrofit job sites, and Legrand notes the line, which includes wired and wireless smart switches, dimmers and outlets utilize mesh networking technologies to maintain consistent performance in large homes.
According to Legrand, its new Smart Lighting products are complemented by a companion Netatmo app that is said to make control and management easy for users. The products also provide voice control capabilities using Amazon Alexa, Google Home Assistant or Apple Siri, and the products also integrate into Apple HomeKit and Google Home.
The company's latest smart lighting products with Netatmo technologies will become available in the U.S. in a choice of two collections: The adore Collection of designer switches and outlets will offer homeowners a square form factor, along with designer wall plates that will be available in a choice of colors and materials. The radiant Collection of switches and outlets will offer homeowners a choice of classic colors and metallic finishes that are augmented by modern-looking, screwless wall plates.