Onkyo/Pioneer Update Supports DTS Play-Fi 'Critical Listening'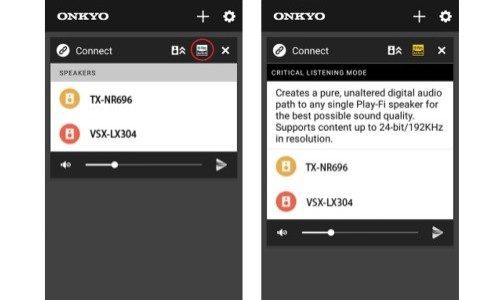 Onkyo and Pioneer released a firmware update for select network AV receivers and network stereo receivers that enables the DTS Play-Fi ecosystem's Critical Listening mode.
The update supports Hi-Res Audio (HRA) streaming up to 24-bit/192kHz resolution via services such as Amazon Music HD and Qobuz, according to the companies.
Play-Fi ordinarily plays music in its native format and encoding, but downsamples Hi-Res Audio files to maintain compatibility in the DTS format's ecosystem. With Critical Listening mode, supported products can deliver those files with their full signal integrity as bit-perfect audio, the companies explain.
User content from media servers (NAS drives) or local storage on Android and iOS devices can also be played via compatible Play-Fi Apps such as Onkyo Music Control and Pioneer Music Control, the companies add.
AVRs and stereo receivers applicable to the update are: Onkyo TX-RZ840, TX-RZ740, TX-NR797 and TX-NR696 network AVRs; Onkyo TX-8390 stereo receiver; and Pioneer Elite SC-LX904, SC-LX704, VSX-LX504 and VSX-LX304 network AVRs.
Firmware can be downloaded and installed directly on network-connected components or downloaded to USB memory from the Onkyo or Pioneer website support pages and installed via the receiver's USB input.
More on DTS Play-Fi: Geir Skaaden Discusses DTS:X Adoption, Play-Fi App