BlackWire Designs Offers ELAC Custom Install Audio Products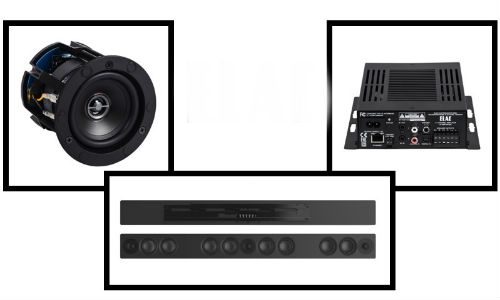 Distributor BlackWire Designs announced it has added the ELAC Custom Install line of speakers, subwoofers, and amplifiers to its offering of home audio products.
BlackWire worked with ELAC to create a two-way IP control driver for Control4 systems, allowing integrators to design the ELAC speakers into new projects, as well as install them in existing Control4 environments where end-users want pristine audio.
"ELAC is an exciting brand committed to developing highly efficient, premium speaker solutions for residential and commercial applications. Their custom installation products feature unique technology designed to save integrators time and money. They have a deserved reputation for bringing unparalleled sound to audiophiles everywhere, which is why it's a favorite in home entertainment and distributed audio systems," says Kevin Luther, owner of BlackWire Designs.
"We're excited to offer ELAC's renowned quality and design to our dealers who rely on us for great speakers and amps with the technology and features homeowners appreciate. For example, the ELAC IS-AMP340 3.1 in-wall amplifier has Dolby Digital decoding, 40 watts-per-channel, and a calibration app. We've also made integration more efficient by creating a two-way IP control driver for Control4 systems."
ELAC's Custom Install line is designed to provide entertainment from elaborate home theaters to background music for every room in the house with zero footprint. Now available from BlackWire are a range of in-ceiling, in-wall, and on-wall speakers along with a selection of corresponding subwoofers, amplifiers, and accessories.
In-ceiling speakers include the Vertex 3.8-inch Ultra Compact ceiling speaker with a small opening and full range, the Vertex 6.5-inch and 8-inch ceiling speakers, and the Vertex 6.5-inch angled ceiling speaker designed for home theaters, with a 30-degree angled woofer and tweeter to direct the sound where it's needed. All have a paintable white grill.
For in-wall stereo or surround sound installations, BlackWire offers the ELAC Vertex 5.25-inch full range speaker and the ELAC IW-S10EQ in-wall 10-inch subwoofer/400W amplifier. It features ELAC's exclusive, app-controlled Cabinet Volume Correction technology.
For installations that don't allow cutting into the wall, integrators can select from small or large ELAC Muro on-wall speakers. The small speaker features a 1-inch soft dome tweeter, a 4-inch aluminum cone woofer, and a 4-inch aluminum passive radiator to assist with full sound, while the large version has a 1-inch soft dome tweeter, two 4-inch aluminum cone woofers, and two 4-inch aluminum passive radiators. Both can serve as left, right, or center for any TV setup.
The on-wall lineup also includes 50-inch or 60-inch Muro passive on-wall soundbars.
Two wall-mountable subwoofers are also available in 8-inch and 10-inch versions with 250 watt and 500W BASH amplifiers, respectively.
BlackWire offers four ELAC amplifiers. The IS-AMP340 in-wall digital amplifier is loaded with features packed into a small chassis to fit into tight spaces. It works as both a two- or three- channel amplifier for stereo or full Dolby Digital decoding. Integrators may also choose from DSP matrix amplifiers covering eight channels/four zones, 12 channels/six zones, or 16 channels/eight zones.
All DSP matrix amplifiers feature speaker presets for ELAC plus the ability to modify the full parametric EQ per zone. Eight assignable analog outputs allow integrators to configure a combination of LFE or stereo outs to a secondary amplifier locked to each zone.