2022 Jeep Wagoneers to Include McIntosh Audio Package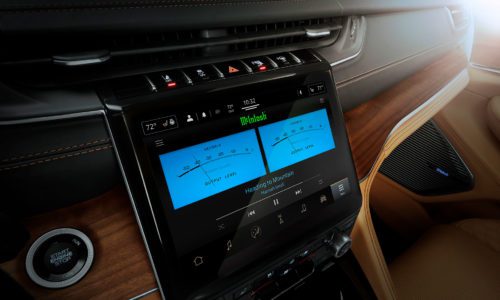 Partnering with the automotive company Jeep, McIntosh Labs has announced that it has developed a pair audio systems for the 2022 Jeep Wagoneer.
McIntosh says its new automotive systems include the MX1375 Reference Entertainment System (RES) and the MX950 system, which will be available in the Wagoneer and Grand Wagoneer models.
The N.Y.-based audio company explains that its new Jeep automotive systems are designed to deliver a reference-quality audio experience to the automotive market. McIntosh says the new car systems incorporate features such as its Adaptive 3D Surround Processing capabilities to deliver an immersive audio experience to users.
Taking a closer look at the two systems, McIntosh points out MX950 incorporates a host of "MAC" technologies. The MX950 incorporates 19 "custom-tuned" speakers that include a 10-inch subwoofer and a 17-channel amplifier that produces 950 watts of power.
The McIntosh MX1375 (RES) system employs 23 "custom-tuned" speakers that includes a 12-inch subwoofer. The system also features a 24-channel 1,375-watt amplifier, and McIntosh's Adaptive 3D Surround Processing technologies.
During the development stages for the systems McIntosh emphasizes that its acoustic engineering team worked on prototypes of the Wagoneers' cabins in order to create the best possible experience.
"When we were developing the MX1375 Reference Entertainment System, we set up a McIntosh Reference room next to the Wagoneer team's facility to ensure the best parts of the home system experience made it into the Grand Wagoneer," comments Charlie Randall, president of McIntosh Laboratory, Inc.
"It was fascinating to hear the progression as the vehicle started to take on qualities of the Reference Room itself. I can't wait for customers to hear and feel it for themselves."
McIntosh adds that other elements of the systems include aesthetic touches such as the inclusion of its famous blue meters that will be a part of the systems' "infotainment display."
More news from McIntosh: Jeep Upgrades Audio Systems with McIntosh