Screen Innovations
Solo Suspended Ceiling Mount System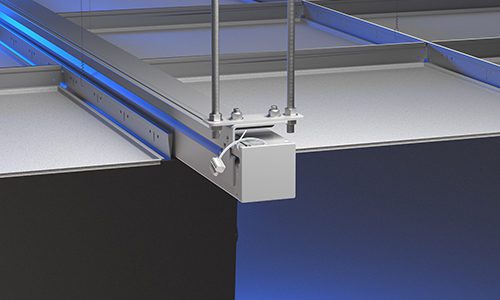 Screen Innovations (SI) has introduced its new Solo Suspended Mount System to enable integrators to discreetly install projection screens into home spaces.
SI states that its new mount system is designed for its Solo and Solo Pro motorized screen products, and the company explains the mount, "preserves the room's aesthetic through a design-focused mounting solution that eliminates visible technology and mounting hardware."
The company points out the Solo Suspended Ceiling Mount System follows the latest lighting and air-handling trends to enable the small, low-voltage motorized screen cassette to mount to a ceiling.
According to SI, the mounting of the mount and screen system is quick and easy, and in many states it eliminates the need for licensed electricians because it is a low-voltage solution.
SI adds that integrators can utilize 485, two-way communication over a two-conductor wire to allow the system to integrate the screen and mount system into third-party control systems from top companies, including Control4, Crestron and Savant.
More news from Screen Innovations (SI): Bob Archer's Top 10 CEDIA Expo 2019 Products: Screen Innovations Solo Pro 2
Product Info:
Product Name:
Solo Suspended Ceiling Mount System
Manufacturer:
Screen Innovations