Stewart Filmscreen
Screen Assistant CPQ Screen Quoting System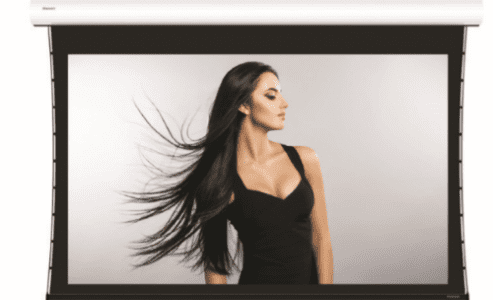 Stewart Filmscreen will highlight its new Screen Assistant CPQ screen quoting system. Attendees can visit with their specs or prints in hand and leave with a consultation and quote for an optimized, reference-quality imaging screen. Stewart Filmscreen will feature leading masking systems and fabrics for a variety of screen models, from the value-driven Cima brand to the new Director's Choice Slimline, VistaScope, or CineCurve models. These materials make for a future-proof reference screen system that will serve through the lifespan of many projectors.
The company will also showcase its newly redesigned Luxus below-ceiling screen system. The retractable screen is ideal for use in multipurpose rooms, and it works well with UST projectors. The system's newly integrated Wi-Fi interface is perfect for linking Luxus to Alexa and other home automation platforms. Luxus is available in Phantom HALR, Firehawk, StudioTek 100, or any of the company's 16K+ screen fabrics.
Stewart Filmscreen steps up to multipurpose wall-mounted screen applications with Balón and new Balón Edge. Balón offers a fixedframe, borderless screen that creates a floating image. The overlapping wrap hides all frame edges, presenting a pristine look from any angle while keeping the image plane.
Product Info:
Manufacturer:
Stewart Filmscreen