RTI
Audio Distribution Solutions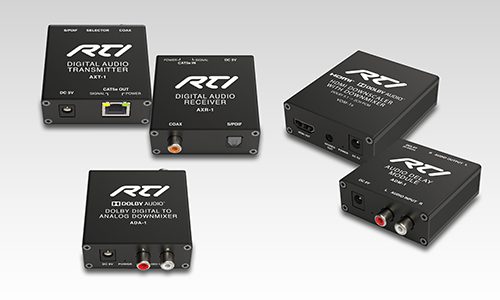 Helping integrators to work more efficiently in the field, RTI has introduced a new line of audio distribution solutions.
RTI's latest product series includes a choice of DACs (digital to analog converter), delay modules and an extender kit. According to RTI, these new products are designed to solve common system issues that integrators run into while in the field.
The RTI audio distribution solutions feature the ADA-1 DAC Downmixer and the VDM1x HDMI Downscaler with Downmixer.
According to RTI, the ADA-1 decodes audio from S/PDIF coaxial or TOSLINK sources and converts these signals into analog stereo signals. The ADM-1 Audio Delay Module and AXP-1 Digital Extender Kit compensate for differences in audio processing speeds that include lip sync AV issues.
The ADM-1 delays audio from 20ms to 340ms via a dial selector. The AXP-1 transmits audio over Cat-5e/6 cable as far as 650 feet. RTI adds the AXP-1 supports coaxial and S/PDIF digital audio, stereo and multichannel digital audio, stereo PCM and 5.1 compressed audio content.
Related: RTI Names Mark Derus as CEO
Product Info:
Product Name:
AV Distribution "Problem Solvers"
Manufacturer:
RTI