Platinum Tools
Fiber Optic Visual Fault Tester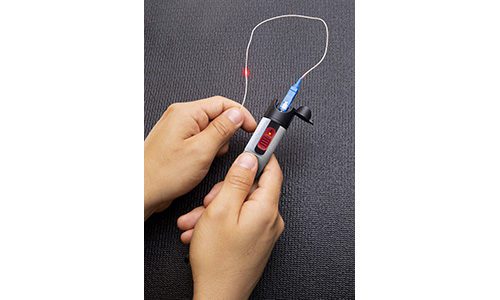 Platinum Tools' new Fiber Optic Visual Fault Tester allows professional integrators to test their fiber-optic cabling runs prior to final installation.
The Newbury Park, Calif.-based company says that its latest tester works with nearly all fiber optic cabling sizes and connectors, and it enables users to install and test patch and breakout cables for any possible fault.
Platinum Tools states its Fiber Optic Visual Fault Tester provides features such as a bright 10mW laser for continuity testing, and it shows breaks and compromised cable bends in most fiber optic cables.
The tester is made from a durable aluminum material, and it runs for approximately 20 hours on a pair of AA batteries.
In addition, Platinum Tools points out the tester incorporates a simple slide switch to allow for the selection of either a flashing or solid beam for the easy identification of problems.
Moreover, the Fiber Optic Visual Fault Tester provides simple pass/fail testing of cables, and when it's not in use Platinum Tools incorporates a hinged endcap that covers the unit's tip when it is not being used.
More news from Platinum Tools: Platinum Tools Offers Free Termination Kits
Product Info:
Product Name:
Fiber Optic Visual Fault Tester
Manufacturer:
Platinum Tools
MSRP:
$105