Parasound
JC 1+ Monoblock Power Amplifier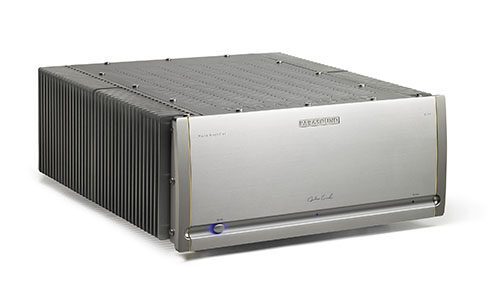 For almost two decades the San Francisco-based company Parasound has offered its JC 1 monoblock power amplifier. Now, after five years of development the company has just introduced its JC 1+ monoblock power amplifier.
Parasound says that its newest amplifier offers 450 watts into an 8-ohm load, 850 watts into a 4-ohm load, and 1,300 watts into a 2-ohm load. The West Coast company explains the JC 1+ monoblock amp is also capable of producing peak current levels up to 180 amperes, and the amp operates in a pure Class A mode for its first 25 watts before operating in a Class A/B mode up to its full power limits.
The new 83-pound amp features a power transformer that has a 20% higher capacity than the previous model, and it incorporates additional Nichicon power-supply filter capacitors that increase capacity from 132,000 uF to 198,000 uF.
According to the company, the JC 1+ monoblock amp is quiet and it is also the first commercially built product to employ active high-frequency noise filtering with Bybee Music Rails. Parasound says this design element eliminates input stage noise that could compromise sound quality.
Other design elements the amp incorporates include a John Curl designed driver stage that features a cascade circuit with greater open-loop bandwidth and increased linearity.
In addition, the JC 1+ monoblock amp offers a choice between Neutrik balanced locking XLR connectors or Vampire unbalanced RCA output connectors to support bi-amping power configurations, and the company offers the amp in a choice of silver or black finishes.
More news from Parasound: SnapAV to Distribute Parasound Halo, ZoneMaster Products
Product Info:
Product Name:
JC 1+ monoblock power amplifier
Manufacturer:
Parasound
MSRP:
$8,495 each