Netgear
M4250 Network Switches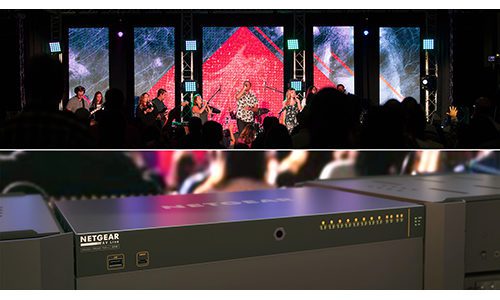 Adding to its product line, Netgear has introduced its M4250 line of network switches that are designed for the professional AV industry.
Netgear says it developed the M4250 line of products from the ground up to support the needs of integrators installing AV-over-IP systems.
The popular networking manufacturer explains the line of products support advanced configurations with a full set of features that include its web-based IT GUI, as well as its telnet and SSH connections, and a standard out-of-band Ethernet port for more advanced setting adjustments.
Other features include static, RIP and PIM routing, DHCP server and PTPv2.
Netgear emphasizes the M4250 line of products supports the Audio Video Bridging (AVB) professional audio protocol for the transmission of content over a network.
The line of network switches are capable of identifying AV signal codecs based on bandwidth requirements such as 1Gbps or 10Gbps per stream.
According to the company, the M4250 line of products are also designed for clean, simple installation within rack-mount environments. The switches utilize a black display panel with port and activity status on the front of the units.
In addition, the line of products offers a range of port configurations from eight to 16 ports with a variety of PoE+ (30 watts per port) and Ultra90 PoE++ (90 watts per port) options.
More news from Netgear: NetGear Debut Third-Party AV-over-IP Control, 100G Switches
Product Info:
Product Name:
M4250 Network Switches
Manufacturer:
Netgear