McIntosh
MHA200 Headphone Amplifier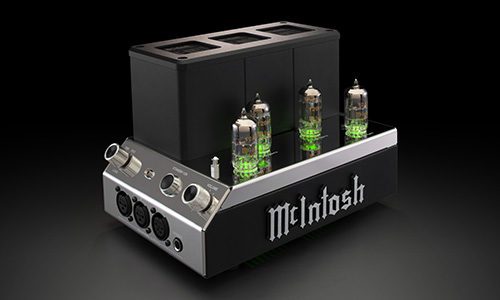 Bringing its classic style to the headphone market, McIntosh has just introduced its MHA200 Headphone Amplifier.
McIntosh says that its new headphone amplifier can be used to drive just about any pair of headphones, and it features the use of two 12AT7 tubes in the preamp section, along with 12BH7A dual-triode vacuum tubes in the power section.
The company explains the MHA200 Headphone Amplifier also employs its Unity Coupled Circuit design, which is the same design it has used since 1949.
McIntosh points out the MHA200 Headphone Amplifier provides a pair of 3-pin balanced XLR connectors to enable the connection dedicated left and right balanced output headphones, as well as a 4-pin balanced XLR input for balanced stereo output headphones, and a 1/4-inch stereo headphone input.
Through its Unity Coupled Circuit design the headphone amp offers four headphone impedance ranges: 32-100, 100-250, 250-600, and 600-1,000 ohms at 500mW.
According to McIntosh, the headphone amp's Unity Coupled Circuit output transformers' secondary windings help ensure full power is always available regardless of the impedance of the headphones.
McIntosh adds that users can select the corresponding impedance range for their headphones via the "load" knob. The volume knob allows the MHA200 to connect directly to music sources that have fixed volume outputs without the need for a preamplifier.
More news from McIntosh: Jeep Upgrades Audio Systems with McIntosh
Product Info:
Product Name:
MHA200 Headphone Amplifier
Manufacturer:
McIntosh
MSRP:
https://www.mcintoshlabs.com
Availability:
$2,500