McIntosh
MC830 Solid State Amplifier and C8 Tube Preamplifier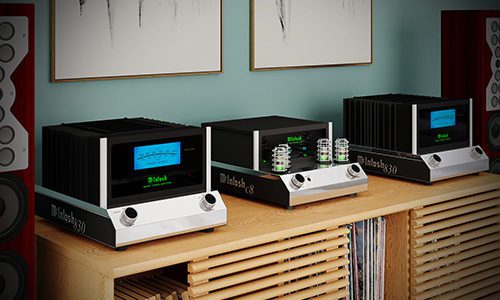 Drawing inspiration from its products from the 1950s and 1960s, the newly announced MC830 amplifier and C8 preamplifier wrap modern technologies in classic aesthetics.
McIntosh says its MC830 solid-state amplifier is a mono block (1 channel) amp that utilizes a direct-coupled output design. Rated to produce 300 watts into 8 ohms or 480 watts into 4 ohms, the amp features a Dual Scale Watt meter that accurately displays power output.
The amp also includes the company's McIntosh Monogrammed Heatsinks, along with balanced and unbalanced inputs. Additionally, the MC830 amp incorporates the company's Power Guard technology that monitors the amp's output signal to prevent clipping. Moreover, the amp employs McIntosh's Sentry Monitor fuseless short-circuit protection technology.
McIntosh's other new product is the C8 preamplifier.
The C8 tube preamplifier employs four 12AX7a preamp tubes housed in protective cages, and it offers integrators one balanced and two unbalanced analog inputs, as well as one moving magnet (MM) and one moving coil (MC) phono inputs.
McIntosh points out the all-analog C8 does come with provisions to support digital audio technologies that include its DA2 Digital Audio Module. The DA2 provides seven digital inputs: two coax, two optical, one USB, one MCT for use with the company's SACD/CD transports, and one audio-only HDMI Audio Return Channel (ARC).
More news from McIntosh: McIntosh Group Sells Audio Research to TWS Enterprises
Product Info:
Product Name:
MC830 Solid State Amplifier and C8 Tube Amplifier
Manufacturer:
McIntosh
MSRP:
MSRP for the MC830 is $4,000 and MSRP for the C8 is $3,500