McIntosh Labs
MC1502 Vacuum Tube Stereo Amplifier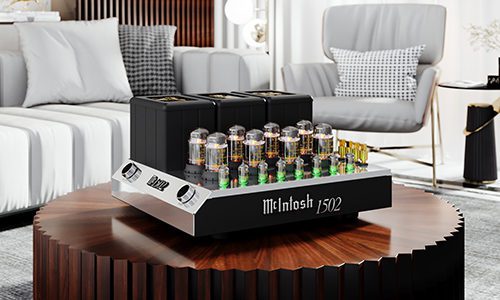 Arguably the most famous manufacturer of tube amplification products in the consumer electronics industry is McIntosh. The N.Y.-based company has just announced its latest tube amp: The MC1502 Vacuum Tube Stereo Amplifier.
According to the 70-year-old audio company, its newest amplifier produces 150-watts per channel, and it was designed as a direct replacement for its Limited Edition 70th Anniversary Vacuum Tube Amplifier that was made in 2019.
McIntosh states the MC1502 features identical specifications and performance to its MC2152 amplifier, while providing a more "customary" McIntosh industrial design.
The amplifier uses eight KT88 power tubes with four assigned to each channel, along with four 12AX7A, and four 12AT7 preamp tubes.
McIntosh explains the MC1502 stereo amplifier also provides a better signal-to-noise ratio (112dB versus 105dB) when compared to its MC275 amplifier.
Other features built into the tube stereo amplifier include Air-Pipe cooling at the tube socket bases to help provide longer service life; construction techniques that include a precision-formed steel chassis, and McIntosh's Sentry Monitor technology that monitors the amp's output current and shuts the amp off if the amp exceeds its specified limits.
In addition, the MC1502 stereo tube amp provides integrators with a the ability to drive 2-, 4- or 8-ohm speaker loads, and a choice of either balanced (XLR) or unbalanced (RCA) inputs.
More news from McIntosh: McIntosh Labs Launches Podcast Series
Product Info:
Product Name:
MC1502 Stereo Vacuum Tube Amplifier
Manufacturer:
McIntosh Labs
MSRP:
$11,000