Leviton
Wireless Structured Media Center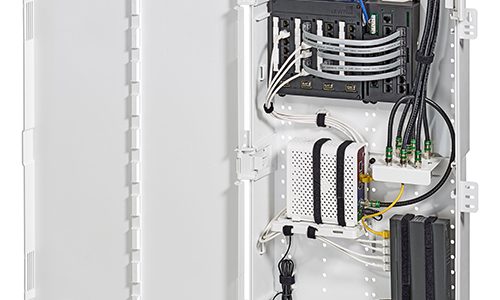 Fulfilling the need for more versatile and more robust network connectivity options, Leviton has introduced its Wireless Structured Media Center line of products.
Leviton says that its latest product line addresses residential and commercial networking environments in which users require wired and wireless network connectivity.
Leviton points out the made-in-the-U.S.A. Wireless Structured Media Center line of enclosures, doors and covers are designed to minimize network interference, and the ABS polymer enclosures are available in a choice of three sizes: 14, 28 and 42 inches.
According to Leviton, the products are also designed to expedite the installation process by providing labor savings up to $1,400 per 100 units through the speed of the installation process.
Some of the other features built into the line of products include a ratcheting hinge and latch system that eliminates the need for tools during installation; doors that allow for 180-degree swings, a multi-bay attachment tube that enables a multi-bay system, and a full range of support accessories.
Related content: Leviton at CEDIA Expo: Smarter Wi-Fi Devices, Embedded Alexa Support
Product Info:
Product Name:
Wireless Structured Media Center
Manufacturer:
Leviton