Klein Tools
Infrared Digital Thermometer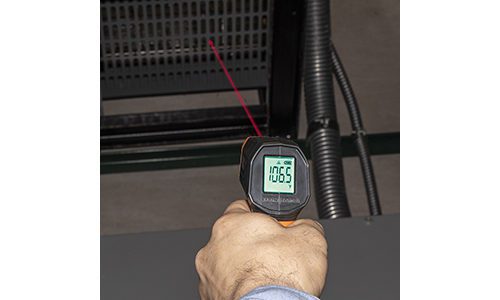 Klein Tools has been in business since 1857, and the company's latest product is its new Infrared Digital Thermometer.
The company notes that its latest product is an affordably priced solution that incorporates a targeting laser that provides a wide measurement range for hard-to-reach areas.
Klein Tools states its Infrared Digital Thermometer with Targeting Laser, 10:1 (Catalog number IR1) provides an optical resolution (distance-to-spot) of 10:1, and a measurable range of -4 to 752 degrees or -20 to 400 degrees C.
At the heart of the thermometer is a FDA and IEC Class 2 targeting laser, and it also includes an "easy-to-read" display.
The Lincolnshire, Ill.-based company emphasizes the product is not a medical device, and it is not intended for use on people or animals.
More news from Klein Tools: Klein Tools Laser Line Bubble Level
Product Info:
Product Name:
Infrared Digital Thermometer
Manufacturer:
Klein Tools