Klein Tools
Fish Tape Line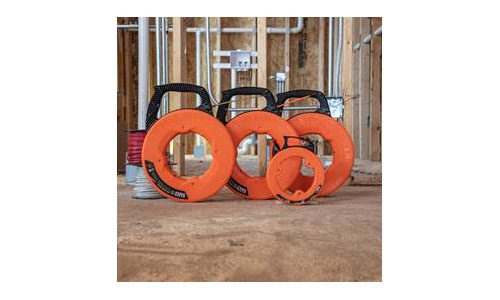 The Lincolnshire, Ill.-based company Klein Tools has announced its 2019 Fish Tape line of products.
According to Klein Tools, it has made a number of improvements to the product line to make cable pulling easier for professional integrators.
Klein Tools says it has upgraded its fiberglass and steel Fish Tape products with suggestions made by users. Among the newly redesigned features incorporated into the products include a new housing design that improves grip, while reducing tape binding.
The company points out the high-carbon steel fish tapes are 1/8-inch wide and designed for flexible long runs and large cabling pulls (catalog numbers: 56331, 5633 and 56334).
Stainless steel models are catalog numbers 56340 and 56341, and double-loop models that provide snag-resistant ends are catalog numbers 56331, 56333, 56334, 56340 and 56341.
The S-Glass fiberglass models are said to provide users with pushing power and low-friction maneuverability. The catalog numbers for these products are 56350 and 56351. Multi-groove fiberglass models include 56380, 56382 and 56383.
In addition other models include 7-inch spiral steel leaders (catalog numbers 56350, 56351 and 56380), and updated non-conductive nylon tip models (56382 and 56383).
Related content: Take Comfort in Klein Tools' Home-site Collection
Product Info:
Product Name:
Fish Tape Line
Manufacturer:
Klein Tools