iFi Audio
iPhono3 Black Label Phono Stage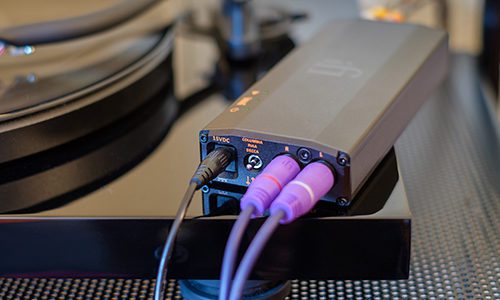 Using technologies developed for its sister company, AMR's PH-77 phono preamplifier, iFi Audio has introduced the iPhono3 Black Label phono preamplifier.
iFi Audio says the iPhono3 Black Label phono preamp includes several important features such as the company's Class A TubeState engine and Direct Drive Servoless design.
The phono preamplifier offers users a choice of settings for gain, load and equalization (EQ) curves to help integrators match the preamp to a turntable's phono cartridge. iFi states the iPhono3 Black Label phono preamp also provides vinyl lovers with a quiet noise floor to help bring out the nuance and dynamics of music.
Highlighting the iPhono3 Black Label phono preamp's options, iFi points out the unit incorporates a choice between RIAA, Columbia and Decca EQ curves. The unit provides a range of gain settings from 36dB and 72dB to accommodate moving magnet (MM) and moving coil (MC) cartridges.
Here's some more analog audio product news: Yamaha Offers White MusicCast VINYL 500 Turntable
Product Info:
Product Name:
iPhono3 Black Label Phono Stage
Manufacturer:
iFi Audio
MSRP:
$999