Ideal Networks
SecuriTEST IP Security Camera Tester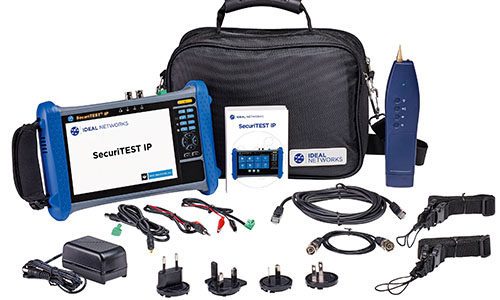 With IP/digital security camera systems gaining popularity, the need has arisen to test these systems. The newly announced SecuriTEST IP tester from Ideal Networks provides system integrators an all-in-one CCTV security system tester.
Ideal Networks points out that its latest product incorporates a 7-inch high-resolution touchscreen, as well as a selection of easy-to-use testing functions.
The company says the SecuriTEST IP tester can be quickly connected to any IP or analog camera through its RJ45, Wi-Fi and BNC connectivity options. The tester features the ability to power cameras via PoE or 12-volt DC power using its internal Li-Ion battery.
Ideal Networks says the battery provides up to 10 continuous hours of usage, and the tester allows users to pass PoE directly from a switch on an active network to a connected camera. The SecuriTEST IP tester's QuickIP function allows unexperienced integrators to connect and configure IP cameras quickly.
The tester employs the ONVIF protocol to support its connection to a range of cameras, and the SecuriTEST IP tester also provides a range of test functions and setup tools to ensure cameras are running correctly.
Additionally, Ideal Network notes the tester is compatible with video formats such as MJPEG, H.264 and H.265, and the product can be used to setup 4K and PTZ camera systems, including the programming of PTZ presets.
More news from CE Pro: Zoom Sues RingCentral Over Alleged Trademark Infringement
Product Info:
Product Name:
SecuriTEST IP CCTV Tester
Manufacturer:
Ideal Networks