EnGenius Technologies Inc.
ECS5212FP and ECS5212 Multi-Gig Switches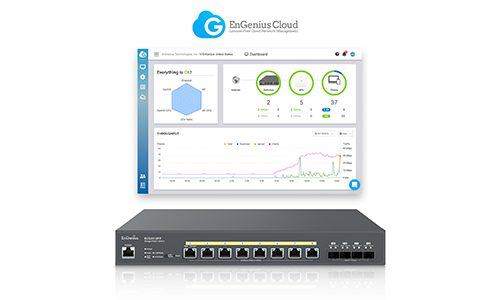 The latest networking products from EnGenius Technologies Inc., is its new ECS5212FP and ECS512 multi-gig switches.
The Costa Mesa, Calif.-based networking manufacturer says that its new products expands its selection of cloud products that offer features such as PoE++ to support a range of 1-gigabit speeds.
EnGenius states the products can be used for residential and commercial network installations to provide a total of 240 watts of power.
According to the company, the ECS5212FP and ECS5212 Multi-Gig network switches are the first of what will be many switches that will be introduced this year. The complete line of products will be able to address mid- to large-size businesses, including student housing, condominiums, hotels and resorts, and assisted living facilities.
The ECS5212FP and ECS5212 Multi-Gig multi-gigabit switches also incorporate enterprise-grade options such as eight 2.5 gigabit ports that automatically detect required by the end device. The ECS2512FP provides 802.3bt protocol compatibility to support devices like Wi-Fi 6 wireless access points, AV controllers, PTZ cameras, digital signage and lighting.
In addition, the switches also come with four 10Gbps SFP+ slots to extend fiber connectivity for uplinks, redundancy and failover.
Related content: EnGenius Technologies EWS850AP Wi-Fi 6 Outdoor Access Point
Product Info:
Product Name:
ECS5212FP and ECS5212 Multi-Gig Network Switches
Manufacturer:
EnGenius Technologies Inc.