Elan Home Systems
IP-Enabled Audio Distribution System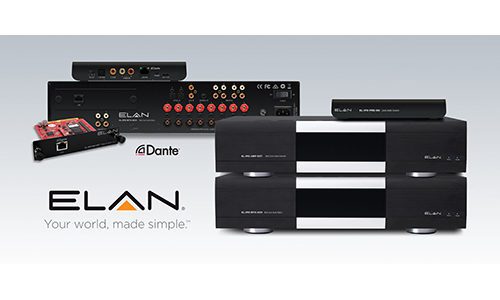 Utilizing the Audinate Dante digital audio platform as the foundation for it performance, Elan has announced its IP-enabled Audio Distribution System.
Elan, which is part of the Nortek Security & Control family of brands states the use of the Dante platform enables it to distribute digital audio over long distances using networked technologies.
The product line includes a multizone audio matrix, a multizone audio extender, a multizone preamplifier audio matrix, a local source interface, and a network audio card.
Elan explains that its new IP-enabled amplifiers incorporate preamp audio out connections that integrators can use to send audio to external amps that are designed to power outdoor speakers.
EL-IPD-MTX-8CH Multi Zone Audio Matrix
EL-IPD-AMP-EXT Multi Zone Audio Extender
EL-IPD-PRE-MSI Multi Zone Pre-Amp Audio Matrix
EL-IPD-PRE-SSI Local Audio Source
EL-IPD-NAC-EXT Network Audio Card
The Calif.-based manufacturer adds that its new IP-enabled audio products leverage its Elan 8.5v software that includes international language support for Google Assistant and more.
More news from Elan Home Systems: Elan System Safeguards Family from Potential Intruder
Product Info:
Product Name:
IP-Enabled Audio Distribution System
Manufacturer:
Elan Home Systems