Cary Audio
DMS-700 Network Audio Player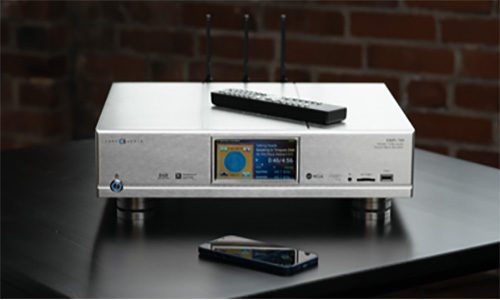 Following the success of its DMS-600 source component, Cary Audio has announced the introduction of its DMS-700 Network Audio Player.
Cary Audio says that its latest digital audio product incorporates the new AKM flagship digital-to-analog converter (DAC) AK4499EQ chip. Cary Audio Explains this ladder DAC chip employs a resistor-to-resitor (R2R) current output, which enables the chip to sound "more analog" while providing a smoother musical response.
The DMS-700 also incorporates a FPGA chip that works in conjunction with the AKM DAC chip to eliminate crossover distortion.
Cary Audio also emphasizes that approximately one third of the network audio player's internal structure is analog, while another third is dedicated to digital audio. The player's final third of internal components is dedicated to its power supply, which is separate from the other components and shielded.
Other design improvements to the DMS-700 include a new LCD interface screen that delivers twice the resolution (1600x1200dpi) as the previous model.
In addition, the new Network Audio Player also features a new Crytek Oscillator clock, seven independent, regulated power supplies, USB/SD card inputs with built-in NAS drive options; coaxial and optical DSD and PCM 384kHz capabilities, and built-in Spotify Connect.
More news from Cary Audio: Cary Audio Celebrates 30 Years in Business
Product Info:
Product Name:
DMS-700 Network Audio Player
Manufacturer:
Cary Audio
MSRP:
$7,995