AVerMedia AS311 USB Conference Speakerphone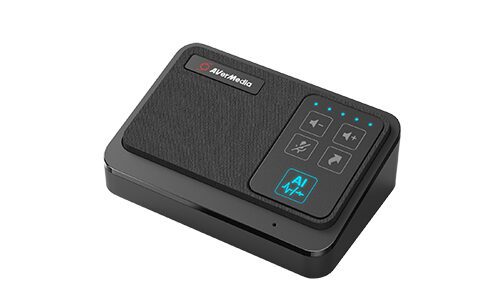 AVerMedia is a well-known manufacturer of collaboration solutions for the commercial AV industry. Entering the burgeoning work from home (WFH) market, the company has introduced its new AS311 USB Conference Speakerphone.
The Calif.-based company's newest collaboration solution is engineered to offer users a speakerphone that delivers clear, easily audible sound that supports a variety of work-related activities. AVerMedia states the AS311 USB Conference Speakerphone provides noise cancellation to minimize background distractions such as barking dogs, crying babies and loud street traffic.
AVerMedia explains that its latest product utilizes artificial intelligence to identify and reduce common background noise to enable users to interact within their meetings without any issues.
The company emphasizes that clear, coherent audio is also maintained by acoustic echo cancellation that is said to prevent the AS311 speakerphone's microphone from picking up the audio coming from the speaker portion of the product.
AVerMedia points out the new speakerphone connects easily via a single USB cable that users can run straight to their computers. The company also notes that users can use the collaboration software of their choice with the AS 311 speakerphone, and the speakerphone's built-in microphone is able to pick up spoken voices from as far away as 9.8 feet.
Additionally, the AS311 speakerphone can be placed just about anywhere within a room, and AVerMedia says that managing calls with the speakerphone can be done simply and silently via the unit's built-in LED touch controls for volume and microphone muting.
More news from CE Pro: CEDIA Expo 2021 Home Theater Exhibits Feature New and Returning Manufacturers
Product Info:
Product Name:
AS311 USB Conference Speakerphone
MSRP:
$150