As the amount of connected smart home devices continues to grow, ABB has launched an upgraded System Access Point 2.0. for its ABB-free@home® system.
Making home automation easier than ever, ABB-free@home® transforms any house or apartment into an intelligent home. Since its introduction in 2014, the solution has constantly evolved to meet consumer demand, with 16 firmware upgrades and the addition of new features including compatibility with Philips Hue, Sonos, Amazon Alexa and Remote Access.
The launch of System Access Point 2.0. is a natural evolution, designed to cope with the increasing demands of smart consumers. The upgraded hardware platform features a stylish and sleek design, which can connect up to 150 wired and wireless devices.
Oliver Iltisberger, Managing Director of ABB's Building Products explains: "We recognize that the smart world we live in is constantly changing, putting ever increasing demands on the technology at our fingertips. With the expected number of smart devices predicted to hit 20 million by 2020, we are always looking at ways to improve our solutions and make them future ready. That is why we have upgraded our existing access point to provide greater connection options and enhanced performance. It is a simple but highly effective solution that makes it easy for installers to offer homeowners greater connectivity in their smarter homes, now and in the future."
Ideal for use in single or multi-family houses and condominiums to ensure smart home connection around the clock, System Access Point 2.0. provides a visualization of the ABB-free@home® system and a commissioning interface for all third party and ABB systems and cloud services.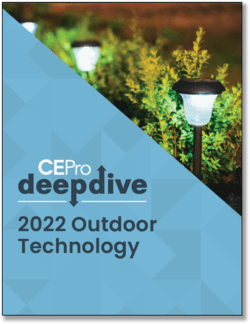 The 2023 CE Pro Outdoor Technology Deep Dive reveals unique set of impediments, including explaining pricing and interacting with outdoor-centric trades.
Get your copy now to take a "deep dive" into the trends and challenges of outdoor technology.
Download the report now!
The new upgraded System Access Point allows up to 150 connections, in any combination of all wired, all wireless or a mix of both. If more than 64 wired devices are needed, a second power supply can be easily installed directly in parallel to the first, with no constraints on the minimum cable length required between both supplies.
With its new, smaller aesthetical design, System Access Point 2.0 includes an external power supply for easy installation. It offers multiple mounting options including: table top with rubber feet to prevent the device from slipping or scratching the surface; wall mounted with the option to fasten the mounting plate to the wall or on top of a VDE (Verband der Elektrotechnik) flush-mounted installation box; and DIN-Rail mounted with optional adapter.
For future proofing, the access point offers 2 USB ports to expand memory or integrate additional features and the new dual core processor provides 2.4Ghz and 5Ghz for improved WiFi connectivity.
For easy smart home commissioning, System Access Point 2.0 features a simple app and no special software is needed to get the solution up and running. Its clever design makes it ideal for use in new construction or renovation projects.
ABB has been pioneering progress in building automation for more than 25 years, having launched more than 1,000 new products in the last five years alone. ABB has always been at the forefront of significant market milestones, as one of the first members of the KNX Association back in 1990 to the launch of its ABB-free@home® home automation platform in 2014, which has now surpassed two million installations.
ABB-free@home® System Access Point 2.0. will be available in Europe and USA from January 2019.
ABB (ABBN: SIX Swiss Ex) is a pioneering technology leader in power grids, electrification products, industrial automation and robotics and motion, serving customers in utilities, industry and transport & infrastructure globally. Continuing a history of innovation spanning more than 130 years, ABB today is writing the future of industrial digitalization with two clear value propositions: bringing electricity from any power plant to any plug and automating industries from natural resources to finished products. As title partner in ABB Formula E, the fully electric international FIA motorsport class, ABB is pushing the boundaries of e-mobility to contribute to a sustainable future. ABB operates in more than 100 countries with about 147,000 employees. www.abb.com