CE Pro Podcast #84: Total Tech Summit Tackles Smarter Business Practices, Emerging Opportunities
Attendees & vendor sponsors of Total Tech Summit tracks of CE, CI and SSI Summits enjoy return of the in-person elite event, best practices sharing, networking & more in Orlando, Fla.
Listen to this podcast using the embedded player below.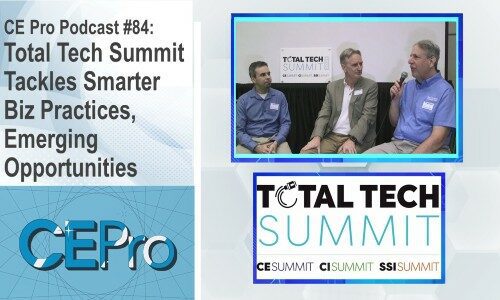 The annual Total Tech Summit gathers the tech industry's elite residential, commercial and security integrators for a few days of fun networking, ideas sharing roundtables, panel sessions, vendor meetings and more – like a cornhole tournament during this year's event, which took place in Orlando, Fla., last month.
CE Pro editor Jason Knott, Security Sales & Integration editor Scott Goldfine, and I sat down during the Summit to highlight some of the happenings on this week's CE Pro Podcast.
As with the CEDIA Expo in September, the return of an in-person event served as an opportunity for integrators and vendors to convene. The Total Tech Summit was last held in person in Fort Worth, Texas, back in November 2019, and after a virtual pivot last fall this year returned with its three tracks of the CE Summit, CI (Commercial Integrator) Summit and SSI Summit.
"My first impression is just how excited everybody is to be here and the engagement in all the meetings, the networking time, the conference sessions and then on the show floor itself is incredible," Knott observed of this year's edition of the long-standing event, which on the CE Pro side is composed of companies in the CE Pro 100, many of which are perennial attendees.
"People just had a pent-up demand to want to be able to meet and share information, and many of them haven't talked to their vendors, their fellow integrators [in person] in two years," he adds. "It's been very positive flow and conversation for the entire event."
The exclusive event brings together hosted dealers, whose packed agendas began with an all-sessions day one opening keynote focused on the economy followed by some solid strategies for elevating your company's digital presence – especially your website and how customers find you – from One Firefly, D-Tools and AV-iQ.
The sessions went hand-in-hand, as economist Lauren Saidel-Baker of ITR Economics delivered a good news/bad news scenario playing out over the next decade as growth slows, then overcomes a minor recession and turns upward again but then before we hit the start of a true depression at the turn of 2030.
"It was amazing to have an economist that kept everyone engaged, it was incredible information," Knott says. "But the long and short of it is using their tracking mechanism that they've had in place that is on average 96% accuracy for predicting what's going to happen … the big news was they predict a very, very deep depression. So I think it gave every single integrator in the room pause to look at developing as I call it a '9-year-business plan.'"
Myriad Ideas Shared at Total Tech Summit Sessions, Roundtables & Meetings
Days two and three broke down the groups by track and included breakfast and luncheon panel sessions around market expansion opportunities, customer service, bolstering IT abilities, leveraging experience centers, adding new technologies to your solutions portfolios, and much more.
"We did one on the opportunity in multiple dwelling units. There's a lot of great opportunity there and we found there's probably not enough security integrators jumping into the market," Goldfine notes. "But hopefully this will entice them to do so."
It's the kind of cross-over idea sharing that takes place during the Total Tech Summit. Similarly, roundtable discussions give attendees the chance to go more in-depth discussing among themselves and reporting back to the larger groups about best practices and potential pitfalls.
And of course, technology also takes the spotlight at the Summit, as sponsor vendors meet with integrators and showcase how they might fit into future plans. The exhibit show floor portion of the Summit well-represented the cross-section of dealers' businesses.
Hear much more from Knott, Goldfine and myself about this year's edition of the annual elite event by listening or viewing the CE Pro Podcast above. Hopefully that'll get you ready to start preparing for next year's Total Tech Summit, which will return to Orlando at the end of October 2022. Thanks as always to the event's sponsors and attendees, we look forward to seeing everyone again next year!
Find past episodes of the CE Pro Podcast by subscribing to the CE Pro YouTube channel or our Apple and Spotify podcast feeds.