CE Pro Podcast #72: How HDMI 2.1 Helps Dealers Deliver State-of-the-Art Gaming Systems
As gaming starts to gain a new generation of enthusiasts, integrators should keep up-to-date on how HDMI 2.1 can act as an entry point into this burgeoning market.
Listen to this podcast using the embedded player below.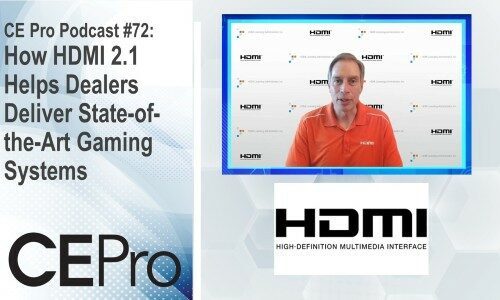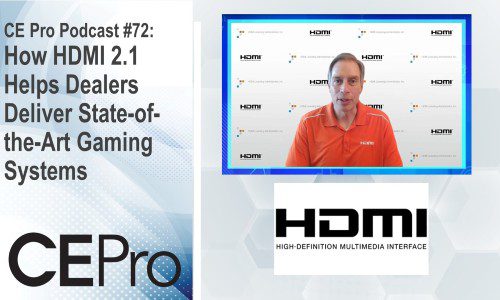 If you're an integrator, do you know if one of your customers or prospects owns the latest PlayStation or Xbox console since they came out last winter? What about if they are involved in PC gaming or subscribes to a cloud gaming subscription service?
If not, you probably should. The audio/video and adjacent technologies could net you some high-dollar scores on upcoming projects.
Rob Tobias, president & CEO of HDMI Licensing, shared on CE Pro Podcast last month that in addition to implementing HDMI 2.1 technical features (variable refresh rate, auto low latency mode, quick frame transport, etc.) that facilitate the most state-of-the-art experience, integrators stand to benefit because they install enterprise-grade home networks, certified HDMI 2.1 Ultra High Speed cabling, AV furnishings, premium large-scale 4K displays and projection systems and more.
"There's two types of gaming experiences," Tobias explains, both of which have their place for installation potential.
"There's a 'lean-back,' which is in your traditional home entertainment area where you would put in a game console — lean back on your couch with your controllers and game. That continues to be a great opportunity; upgrade the traditional home entertainment area with the latest and greatest displays that support gaming, the consoles, the Atmos surround-sound systems," he says.
But an emerging scenario is the dedicated game room, he says. "And that's more of the 'lean-in' experience, and that is driven by the whole PC gaming market and around esports … it's 'I want a giant gaming monitor, my gaming chair, my high-performance rig and I need a blazing-fast network.'"
So there's a great opportunity for integrators to upgrade the infrastructure for a customer, but the potential becomes more attractive knowing it can be used to support the high-performance entertainment needs of a house as improved streaming content continues to proliferate.
Industry Research Supports Gaming as Resi & Resimercial Opportunity
Meanwhile, the latest figures from smart home industry research firm Parks Associates support Tobias' enthusiasm for integrators' gaming opportunities. Recent survey results from "Quantified Consumer: Next-Generation Gaming: Consoles and Cloud" and "Evolution of Gaming: The State of Cloud Gaming" reports notes 75% of heads of U.S. broadband households report playing video games for at least one hour per week and 36% subscribe to or are trialing at least one free or paid gaming service.
"While nearly two-thirds of households are not yet engaged with any gaming services, cloud gaming can become a staple within the subscription entertainment options available to consumers," says Paul Erickson, senior analyst, Parks Associates. "Netflix's recent entry into the industry brings more attention and awareness to online subscription gaming."
The research also reports 91% of console gamers play games on at least one other platform, with 37% playing on a PC, mobile device, and a connected TV device (either a smart TV or streaming media player) in addition to their console, according to the group.
And not only is it a residential opportunity, but Tobias notes that esports is becoming like traditional sports these days as kids strive to become pros or spend intramural time involved in gaming. High schools and colleges are meeting these needs with dedicated gaming spaces that require the same solid infrastructure and HDMI 2.1 capabilities for integrators to potentially outfit.
HDMI Licensing has even supported that sector with its HDMI Gaming ambassador program around popular games and events.
"We've been working for a couple years now … where we sponsor a couple of gamers in these gaming tournaments for 'Fortnite' and 'League of Legends,'" says Tobias. In turn, they spread the HDMI 2.1 evangelism on the repeat.gg platform as part of the relationship, for instance.
So while your potential gaming customers are getting educated on HDMI 2.1, CE pro's can get educated by hearing more from Tobias on this week's podcast by listening or watching above. Find past episodes of the CE Pro Podcast by subscribing to the CE Pro YouTube channel or our Apple and Spotify podcast feeds.