CE Pro Podcast #35: Calibration Tips to Tweak Your New Audio System
Home Acoustics Alliance director Gerry Lemay joins the CE Pro Podcast to discuss the impact of acoustics and tools to tame rooms for stereo & home theater audio.
Listen to this podcast using the embedded player below.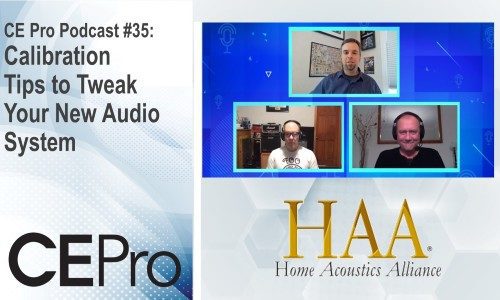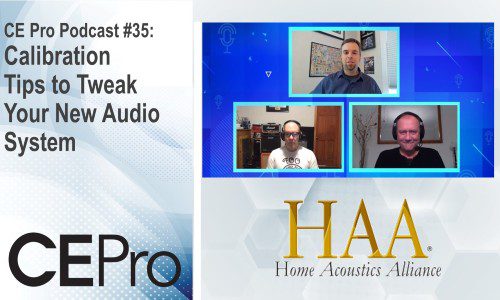 For decades, the audiophile community has turned to trinkets such as uber power cables, cable risers and air ionizers to improve the performance of their audio systems.
Gerry Lemay, director of the Home Acoustics Alliance (HAA), however, evangelizes more of a science-based approach that aligns with the professional audio market. Now, after years of teaching his ever-evolving curriculum to custom installers across the globe, Lemay and the HAA are seeing more people discovering how important room acoustics are to the performance of audio systems in home environments.
In the latest CE Pro Podcast, Lemay sits down with me and executive editor Arlen Schweiger to discuss why acoustics are so important, and what type of approach integrators should take to rectify any acoustical issues they may encounter in the field.
Automated EQ Systems Keep Getting Better
During our nearly 30-minute conversation, Lemay addresses the popularity of the bundled equalization (EQ) suites that so many AV receiver and processor companies include with their products.
Lemay admits these products have improved over the years when asked about their widespread implementation.
"Yeah. That's amazing thing, and actually that could have been asked 10 years ago and probably 10 years before that [with] the public's slowly increasing interest in acoustics. I think that you're on to something with these automated programs … so I do believe that it's becoming more of a thing," he says. "Well, they have improved … [over the past] 10 or 15 years I think they have certainly; they have incrementally improved."
Lemay adds that he used the built-in system in an Onkyo receiver when he was in a hurry and helping his son with his AV system.
"I think they're very useful for the consumer. I think they can be useful for an integrator who is in a hurry," he comments.
System Designs, Calibration Tools All Part of the Process
Lemay notes that since low frequencies are the most important element of home theater audio, it is possible to achieve good sound integration by using processors on a system's subwoofers. Once the low frequencies are taken care of, he says those bundled automated EQ systems will have a much easier time and someone can achieve good results using those systems in those types of scenarios.
Lemay also emphasizes that regardless of whether integrators are installing a two-channel stereo system or state-of-the-art immersive audio system, the same rules of acoustics still apply.
Those rules are highlighted by a good system design, speaker placement, seating placement, listening with your ears, as well as equipment such as real-time analyzers (RTAs), and the use of quality components.
"In audio, the fundamental and I'll say the most important part of tuning the system is where you're going to sit. First of all, and where the speakers go, including the subwoofer. So, I have a saying, 'You can't calibrate a poorly designed system,'" he stresses.
To hear the entire conversation, click on the video or audio files above. To learn more about the Home Acoustics Alliance (HAA) curriculum go to homeacoustics.org.
Find all of the CE Pro Podcast episodes by subscribing to CE Pro's YouTube channel.