CE Pro Podcast #11: Micah Sheveloff, PR Man Meets Piano Man
In addition to clients that include AudioControl, Bryston and Savant, the industry veteran is also a rocker-turned singer/songwriter, and recently released his latest record, 'Rockville.'
Listen to this podcast using the embedded player below.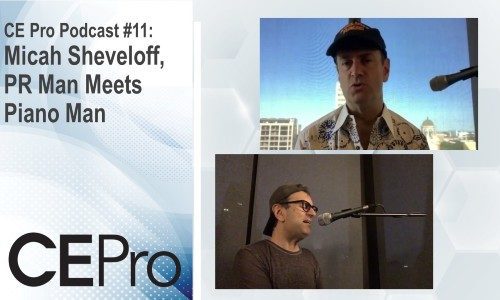 If Aerosmith are the "Bad Boys of Boston," then Micah Sheveloff could be "Boston's most thoughtful rocker."
Sheveloff is a veteran custom electronics industry public relations professional whose company WIRC Media has top clients that include AudioControl, Bryston and Savant. He's also a veteran of the Boston music scene, who not long ago took his talents to Florida's west coast in St. Petersburg.
For the latest CE Pro Podcast, the PR specialist joined the magazine's editorial team as a guest for our Industry's Got Talent segment, and even recorded a performance for the episode.
Growing up surrounded by music literally since day one, Sheveloff says his family prioritized music, and classical music in particular.
Sheveloff's father, Joel Sheveloff, was a tenured musicologist and professor at Boston University, and a highly respected member of Boston's globally recognized music community.
Like most kids growing up in the 1970s and 1980s, Sheveloff discovered rock music, and not long afterwards he started following in the footsteps of his favorite bands such as The Beatles and Cheap Trick.
Evolving Tastes Lead Sheveloff Down a New Musical Path
After cutting his teeth in the vibrant Boston rock scene during the 1980s, which included a stint in an early version of the band Extreme — you might remember their big hit in the early 1990s "More than Words," and singer Gary Cherone's stint with Van Halen — Sheveloff found success in the early 2000s with the band The Voodoo Jets.
Over the past several years, he has made the transition from rock music to his current musical endeavor of performing original material performed as a singer/songwriter.
Flexing his musical muscle, Sheveloff writes complex song melodies through his music theory training, which he's been immersed in since he was young. The result of his ability to write these complex melodies can be found in albums such as "Exhibitionist" and his newest recording, "Rockville."
Taking some time to talk about his upbringing, as well as his days in the Boston club scene and his latest record, which he recently released (and can be found on services like Spotify, Apple, Amazon, etc.), Sheveloff joined CE Pro executive editor Arlen Schweiger and myself to talk about his music career.
Listen to the latest CE Pro Podcast above with Micah Sheveloff, and check out our YouTube channel for more episodes.