CE Pro Podcast #77: Stereo Barn Reflects on 50 Years in Business
Family-owned Stereo Barn started in 1971, migrating from pure retail to custom installation. Community involvement has helped breed success.
Listen to this podcast using the embedded player below.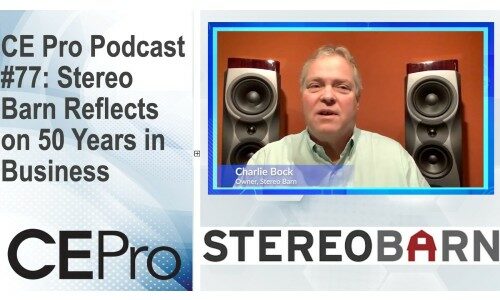 Charlie Bock first started hanging out in his dad's retail store as a teenager and has never left. Decades later Stereo Barn is celebrating its 50th anniversary and the company's story is a microcosm of the evolution of consumer electronics retail to custom integration.
"Stereo Barn was founded by my father. He opened the business in 1971 in his retirement," reminisces Bock. "My father had worked in the consumer electronics industry in the 1950s and 1960s for companies like Zenith Westinghouse. And he decided he wanted to open up a retail stereo shop. He had never worked in the retail side of the industry. It was a real gamble to open up a stereo components store in 1971 in a rural area, in an old barn-like building, in the middle of cornfields. It's not something I would even do today. I used to hang out there as a kid and into my teenage years. It was a cool place to be. If you couldn't be in a rock band, working at a stereo shop was the next best thing."
In 1985, Stereo Barn got its first taste of custom installation when a customer was renovating an old mansion in the area and wanted audio throughout the house.
"I looked at the project and he asked if we could do it. I said, 'Of course we can do it. We had no installation department; we had no workers but we designed and engineered a system, pulled all the wiring through the house and put in an excellent sound system. That customer is still a good friend and customer to this day," recalls Bock.
Stereo Barn Showroom Mimics a Home
Today, 80% of Stereo Barn's sales are installation dependent, even if they are made in the showroom.
Bock says the retail storefront has been a great place to showcase product and custom installation of systems well beyond just audio and video, but lighting control and whole-house control.
The showroom itself is designed to replicate a home. It has a kitchen, living room area, home theater that would be typical of a basement, a sports bar, an outdoor area, and several listening areas, including a McIntosh 2-channel listening space. The sports bar area is used for sales consultations.
With a full working kitchen, Stereo Barn can host special events for top clients and others. Bock says the amazing element of having a great showroom is that companies, like financial firms and others, actually reach out to Stereo Barn to have their events held there.
"I used to think that I would have to pay to get these people to come in," exclaims Bock. "The showroom has been a very valuable part of our sales efforts."
He cites lighting control as a great example of how the showroom leads to additional sales. He says it is very rare for a customer to come into the showroom looking specifically for lighting control. They come in for audio and video mostly. But when the lighting control is shown to them in a somewhat-scripted demo, "it opens people's eyes," comments Bock.
Being a family-owned business and staying involved in the local community are key elements to Stereo Barn's success.
"People are so used to a homogenized experience at those big-box merchants or the anonymous experience of purchasing things online that they value supporting a local business," he notes.
Bock's daughter Meredith is also part of the business as the company's lead technician.
"She's a valuable asset. It is kind of funny because I've always been proud of being out in the community and I've worked on a lot of boards and a volunteer. One day someone came up to me and said, 'Excuse me, are you Meredith's dad?' I realized, 'wow she's an asset.' This personable young lady who is technically capable and goes into people's houses and amazes them. She's like a public relations asset. So we've promoted the fact she's the third generation and the granddaughter of our founder."