CE Pro Podcast #65: What's Ahead for Home Networking?
CommScope Ruckus discusses Wi-Fi 6, the advent of wearables, Access Networks' acquisition by Snap One and more.
Listen to this podcast using the embedded player below.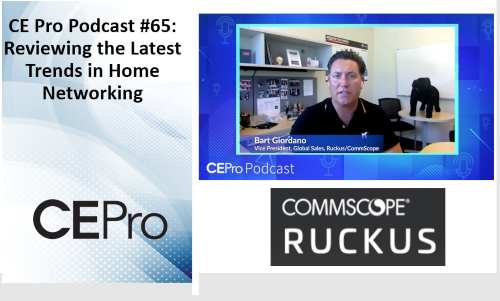 The networking category is certainly an area of constant change, and CommScope's Ruckus brand is at the center of much of the change.
And with change comes questions, such as:
What will the new Wi-Fi 6 protocol mean in terms of its ability to bring a much broader range of IoT devices into the smart home control realm for integrators?
What does the pending deployment of 5G cellular networks mean for home networks? Will 5G replace the need for a home network down the road?
Will the post-pandemic market opportunities for deploying home networks be as strong as they were during COVID-19?
Finally, how does the recent acquisition by Snap One of Access Networks affect CommScope Ruckus's relationship with Access Networks, if at all?
CE Pro posed these questions and more to Bart Giordano, vice president of global sales for Ruckus. CommScope has been involved in the connectivity infrastructure business for nearly 40 years and through a series of buyouts acquired Ruckus, which has been providing networking gear for about 15 years to the channel.
Giordano is not surprised by the explosion in home networking that occurred during COVID-19 and he does not see demand waning.
"I think one of the things we realized in the era of distance learning and remote work is we took for granted in the home that 'good enough' Wi-Fi could cut it," he remarks. "Suddenly we're faced with new use cases around concurrent video streams coupled with trends that were already happening in the space, such as more devices connecting on the network that strain capacity. Now we layered on these new use cases around bulk data transfer and concurrent real-time voice and video that really exposed a lot of networks and showed us all that there is room for enterprise home networking.
"I don't think it's peaked by any means certainly," he continues. "Whether it's remote work or flexible work, I think the fact that people are going to be having these types of experiences on their home network is going to persist. I'd like to think that children are going to get back into the classrooms full time next year, but we don't know. I think there may be flexible learning opportunities that persist as well. So there is going to continue to be a strong demand for these types of solutions in the home."
Snap One Acquisition of Access Networks Broadens Opportunity
When Snap One acquired Access Networks, some in the industry wondered if that move would affect Ruckus' relationship with Access Networks, which uses Ruckus' networking gear to provide its end-to-end service solution for dealers. Giordano says the buyout is good news for Ruckus because it will expand the market.
"It's really exciting," he comments. "We've enjoyed a long-time partnership with Access Networks. It is a very unique partnership that allowed us to bring uniquely differentiated technology into the custom home AV environment. To the extent that [the acquisition] changes the relationship, I think it only expands it. Snap One brings a broader reach into the market, so we couldn't be more excited about bringing Ruckus and the Access Networks brand to a global network of dealers. It's very positive, from our perspective," he says.
Wi-Fi 6 Will Usher in Wearables
Giordano calls Wi-Fi 6 "almost a watershed moment in the industry." Because it the new protocol focuses on increased capacity instead of increased speeds, he believes integrators will be able to greatly broaden the types of devices they hook to home networks. In particular, Giordano is excited about the potential for adding wearables to the smart home ecosystem. He believes that individual members of a home could each have four or five wearables connected to the network in the future, not to mention dozens of new sensors in the home.
"Wi-Fi 6 couldn't come at a better time. More devices coming on the network, bringing more taxing applications running over those devices, from traditional computing devices or mobile devices doing voice and video and streaming applications or a whole new range of IoT devices," he says.