CE Pro Podcast #52: How PowerHouse Alliance Members Pivoted to Meet Integrators' Pandemic Needs
PowerHouse Alliance executive director Dennis Holzer highlights efforts the distributor's 11 members and 50+ locations made over the past year, plus hot technologies dealers are capitalizing on.
Listen to this podcast using the embedded player below.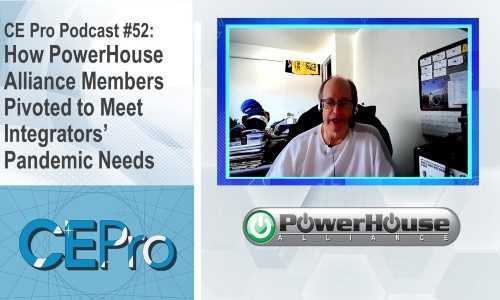 One of the most impacted segments of the custom electronics industry in 2020 due to the pandemic was distribution. Supply chain issues, social distancing mandates, temporary shutdowns and more caused concern among dealers, but as executive director Dennis Holzer tells CE Pro on the latest CE Pro Podcast, key industry distributor network PowerHouse Alliance has had its integrators' backs throughout the crisis.
With 11 members operating 50+ locations across the United States, Holzer's group of distributors faced all manner of obstacles the pandemic created with logistics as region to region was hit differently.
"The first thing that comes to my mind [as the pandemic lockdowns began] is we specialize in selling the integrator, and here I'm thinking, who's going to let an integrator into their house," Holzer notes about the very unpredictable early stages of the pandemic.
"I didn't know what to expect. But what we did do is, as a group we huddled up … the first thing we did was we made our integrators understand that we're here, we're open – we will function a little bit differently," he recalls of PowerHouse's response. "But we're going to add a lot of things to the menu that we didn't do before.
Holzer notes that PowerHouse did not close any locations, and managed to get its message out about product availability – with safety protocols in place, the distributor was still making its self-serve component there, it extended its hours in some cases, delivered more to job sites, and other ways to assist integrators "whether you've been a PowerHouse member or not," Holzer adds.
2020 Hindsight Shows PowerHouse Alliance Dealer Success
And in a turn of events as much of the industry saw, many PowerHouse dealers became exceedingly busy in 2020.
"My fears were fully incorrect. If anything, it went the opposite way," Holzer says, "where consumers now were obviously doing a lot more work from home and I think it exposed them to more blemishes in their home in their mind. And as a result, our business and their business really took off, to the point where many of our integrators were backed up 2-3 months getting to installs."
Recently the distributor released a whitepaper detailing today's state of the nearly dozen PowerHouse Alliance members, including which technologies integrators were purchasing in 2020 and which ones members anticipated to continue growing in 2021.
Holzer chatted more in depth about the "A Landscape of Change: Charting New Territory in the Custom Installation Industry" report as part of the podcast discussion.
Indeed, Holzer confirms that the PowerHouse Alliance distributor members are selling home networking like hotcakes as well as home entertainment both indoors and outdoors.
Meanwhile, one of the ways the distributor network provides for its dealers is with options from its in-house A2V brand. On the CE Pro Podcast, Holzer also shares some of the trending solutions from the A2V line, and potential products being explored to bolster the brand's current audio and accessory offerings.
View the YouTube video or download the MP3 audio file above to hear this week's episode, and find past episodes of the CE Pro Podcast by subscribing to the CE Pro YouTube channel or our Apple and Spotify podcast feeds.