CE Pro Podcast #48: Somfy Recommits to Custom Integration Channel
Somfy offers certified drivers for Control4, Crestron, Savant, URC and Elan. Open-API motors enable integration with unique solutions.
Listen to this podcast using the embedded player below, or use the link to download (right-click to save) or to listen using your system's media player. On mobile devices simply click the Download this Audio File link below and your devices player will automatically play the file.
Listen to this podcast right now.
Format: mp3 • Length: 12:55 • Filesize: 24802436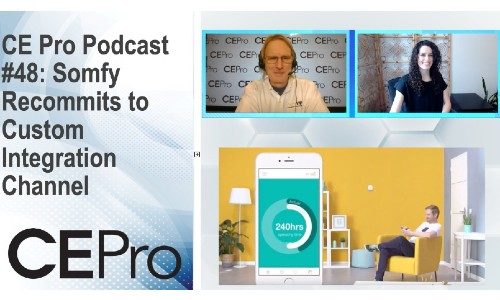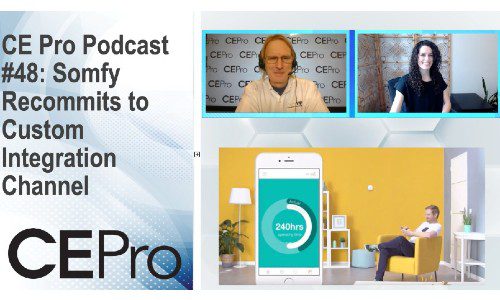 Somfy is already one of the most recognized brands in the custom installation market, but despite that prominence the company is heading into 2021 by doubling down on its commitment to the integration channel. That commitment includes creating certified drivers for major control platforms, seamless integration with several unique outdoor products to help expand dealers' opportunities, and the creation of a new role focused solely on the channel and building partnerships.
Somfy has a unique pedigree. The company was founded by craftsmen in a French valley near the border with Switzerland back in the 1800s to make parts for Swiss watchmakers. By the mid-1800s, Somfy was using its mechanical tooling to make fishing rods and fishing reels. Then, in 1969 a local awning and shutter manufacturer challenged various local factories to design and construct a solution to power the shutters and awnings. Somfy accepted the challenge and thus began its 52-year odyssey in motorization and later control.
"Our background is unique for this channel because most manufacturers have their start in audio, video or control," says Brittany Mier y Terán, the industry veteran recently brought onboard at Somfy for the newly created position of partnerships and CI channel manager for North America.
"Exterior motorization is really how we first got into the channel, and it wasn't too much later that we began to automate those exterior motors with proprietary controls, then came projection screens. Interior roller shades came later for us, and historically our focus has been to innovate for the needs of traditional window treatment channels. That's why we've gotten into the CI channel on a direct basis a little bit later than other companies that may have their roots in projection screens, audio or video.
"My focus is the custom integration channel and partnerships outside the shading industry, specifically in Canada and the United States," says Mier y Terán. "We are taking two approaches to the channel. First, we are partnering with control manufacturers in both the commercial and residential space to make sure all our products and software align the way they should. This assures that all the components, motors and controls have all the functionality and features integrators need, regardless of the control platform being used. Secondly, we are working directly with integrators. Somfy realizes it is really important to dedicate time and focus to participating with and supporting the channel."
"We have a really strong history in the window treatments and solar shading space. We produce more motors for the solar protection market than any other manufacturer in the world. Because of that position, Somfy has always been astride of the custom integration channel, but hadn't focused on the engagement and support infrastructure required to support integrators.
"Somfy traditionally sells its motors and controls to fabricators, who then make window treatments specified by interior designers and architects. It was through design and architecture channels that Somfy motors eventually found their way into the custom integration space, and now we're focusing to make sure we can innovate and deliver for integrators working with our products," says Mier y Terán.
Somfy Certified Drivers
Another key step in Somfy's rededicated commitment to integrators is the development of certified and validated drivers for major control platforms like Control4, Crestron, Savant, URC, and Elan. Also, the company's API enables Somfy motors to be the key to integrating unique solutions like smart pergolas from Struxure, exterior motorized insect, shade, privacy and projection screens from Phantom Screens, and motorized awnings incorporating fabrics from Sunbrella.
"It was a really important pivot for us to work directly with CI manufacturers in getting drivers developed and certified. Integrators expect that manufacturers will collaborate to make sure their products are inter-operable, regardless of overlapping offers," says Mier y Terán.
Motorized window treatments and awnings also play a vital role in the intersection between technology and design. Often, the fabrics specified for the shades are done by the interior designer. That means automated shades can be a catalyst for integrators and designers working closely together on a project.
"With a Somfy motor, you just know it is going to work well with the control system. That breeds a symbiotic relationship between designers and integrators," says Mier y Terán. "And then that gives the designers freedom to work with other trades and not feel like they're being restricted by the integrator."
Looking ahead, she labels 2021 as "the year of custom integration at Somfy" with a solid product roadmap planned.
"All motors are not created equal. If integrators want their solutions to integrate well, they should specify their shade solutions with Somfy motors inside," says Mier y Terán.