CE Pro Podcast #45: Integrators Dish on Crestron Home One-Year Later
Panel of integrators review the past 12 months of deploying Crestron Home in the field and how it assisted their businesses during COVID-19.
Listen to this podcast using the embedded player below.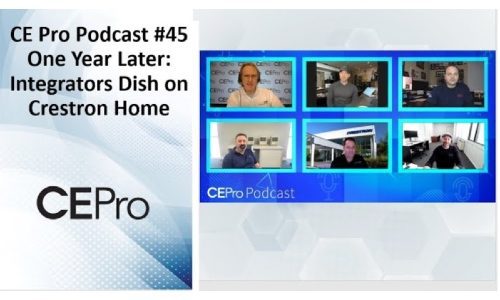 "Where are they now?" is a popular topic for just about anything, whether it's wondering about your old high school friends or acquaintances, or whether you are curious about whatever happened to a certain actor or actress from one of your old favorite TV shows.
In this week's podcast, CE Pro is having its own "where are they now" moment with a group of custom integrators that CE Pro interviewed back in January 2020, just before COVID-19 hit. At that time, they were bubbling with excitement for the coming year, and particularly excited about how they planned to adopt the new Crestron Home control system that had just hit the market.
Well, how did it all turn out for them in tumultuous 2020? Pretty good. They all reported they were able to lean on the system throughout the year, even for their largest projects. The speed of deployment also allowed them to upsell clients because it instilled confidence in their customers to see them program the system so quickly.
John Clancy, vice president, residential, at Crestron, also gave an update on some of the changes that have taken place throughout the year with Crestron Home, including its integration with Lutron, the addition of Crestron Extensions and its integration with the MyCrestron Home Configurator.
Learn more by watching or listening to the CE Pro Podcast above. Subscribe to the CE Pro YouTube channel to find more episodes of the CE Pro Podcast.