CE Pro Podcast #38: Garden Light LED Targets Channel with Unique Landscape Lighting Solutions
Garden Light LED brings high-quality landscape lighting with flexible, non-proprietary wiring system to market.
Listen to this podcast using the embedded player below, or use the link to download (right-click to save) or to listen using your system's media player. On mobile devices simply click the Download this Audio File link below and your devices player will automatically play the file.
Listen to this podcast right now.
Format: • Length: • Filesize: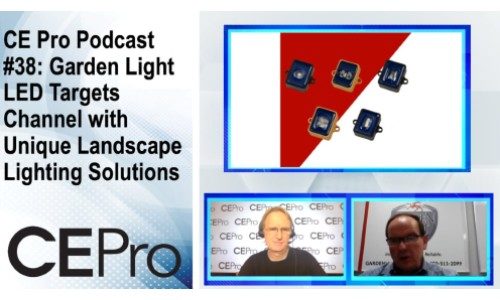 Heading into 2020, CE Pro had named landscape lighting as one of its Top 5 Technologies to Watch. Little did we know that the pandemic would make outdoor technology installations not just a "technology to watch," but one of the hottest areas of all. Indeed, landscape lighting has migrated from a DIY solution based on inexpensive Malibu Lights from Home Depot that was generally discarded by integrators to a product category that is an integral part of outdoor technology installations.
Garden Light LED in Tampa, Fla., is the latest manufacturer to target the custom installation industry. The company was founded in 1996 by former installers Reto and Michelle Mueller. That experience in the field gave them solid insight into exactly what is needed to successfully sell, design, market and install landscape lighting systems. It also made them realize there no solutions that fit their needs, so they started Garden Light LED, migrating to even better-quality products in 2009 with the advent of the LED lighting revolution.
"From 2009 to the present, we've been a fully integrated company. We do all the engineering, the majority of manufacturing, and all the assembly, testing and shipping from our facility in Tampa," says Bruce Kenison, national sales director. The company focuses on direct sales relationships with integrators, maintaining six months of inventory on its shelves. That direct-to-dealer relationship also allows them to provide better service, according to Kenison.
"Not just in terms of the product, but also how to design, how to install, how to sell, and how to market. We take all those things we learned through our experiences and pass that on to our dealers," he says.
The company has a broad array of landscape lighting solutions, all of which come with a 20-year warranty and use a non-proprietary wiring scheme.
Garden Light LED has all the traditional landscape lighting fixtures, including path lights, wall washers and directional lights.
"But what really separates us and makes us really excited about the AV world is we have fixtures that are specific to the architecture of our home," notes Kenison.
One of the key lines is the company's Micro Series fixtures that draws just 1 watt but produce 115 lumens.
"It's only 1-inch x 0.6 of an inch… so it's very small," says Kenison. "You get a lot of power out of a small package, but what's really neat is you get five different beam spreads. So depending on the application, from a stone wall to a gazebo to an outdoor kitchen or bar, you can work with five different beam spreads. These fixtures are also IP-68, IP-69 K rated. So that means they are actually submersible and you can spray them with a high-pressure hose. They are going to hold up really well in any environment.
Other key lines include the Saturn and Series.
Kenison spoke with CE Pro in-depth about the company's full line of products, as well as its non-proprietary wiring system that offers dealers flexibility in terms of placement of fixtures.
Check out all of the CE Pro Podcast episodes by subscribing to the CE Pro YouTube channel.