CE Pro Podcast #74: How to Outsource Proposals, Specs, Documentation in Booming Market
BlueDog Group's Scope & Budget Tool enables integrators to outsource proposals, design and documentation without over-hiring.
Listen to this podcast using the embedded player below.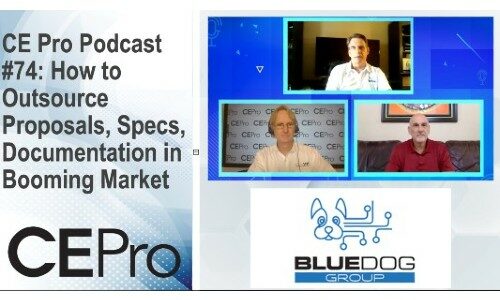 There's no question the tight labor pool is the biggest challenge dealers are facing today. BlueDog Group is working to ease that situation.
Led by industry veterans Curt Hayes and Doug Dodd, the company has developed an app purpose-built to support scope and budget selling (and collecting a design retainer) to shorten the sales cycle and improve close rates. BlueDog also has a Scope & Budget Sales System to help with designs and documentation and provides a scope and budget selling platform that walks integrators and clients through the qualifying process — moving them from the client's 'wants list' to an accurate and successful proposal.
"You've got your sales guys out there working really hard to get new sales and right now," says Dodd. "Our economy is booming, construction is booming. What we can do is take our Scope & Budget tool take the outcome of the sales meeting notes and digest them into an outsourced resource to document all of the process. We start at the pre-proposal, and we can do a complete specification. Once the job is sold and it's and it's ready to go, then we can do all of the construction documents that go along with that."
The Blue Dog Group tool, in essence, smooths out the sales process.
Dodd says the end result is the ability for integrators scale their business and not be bogged down hiring designers to handle the booming market. Also, if the market slows down, then integrators have not over-hired.  
"You always deal with ebb and flow… it doesn't matter if you're doing a half million dollars in sales or you're doing $18 million in sales… scaling a business is difficult, so you take the Scope & Budget tool, create the expectations [with the customer], and you hand it off to an outsource resource like Blue Dog and we develop all of your documentation from that point forward. Then, you plug it into your project management, procurement and installation systems and you've got a job process that is scalable and that you can sustain over a long period of time," notes Dodd.
Hayes adds, "Simply, we provide an experienced team that can take the responsibilities of writing proposals, doing construction drawings, handling change orders. So if you have sales guys writing proposals, you can let them go sell. If you have project managers that are trying to put drawings together, let them go project manage."
Hear more from Hayes and Dodd by watching or listening to the audio and video files above. Find past episodes of the CE Pro Podcast by subscribing to the CE Pro YouTube channel or our Apple and Spotify podcast feeds.