Victims of Smart-Home Abuse Now have Resources to Thwart Their Domestic Attackers
As smart-home technology becomes an increasingly popular weapon in domestic abuse, University College London publishes a resource list to help victims.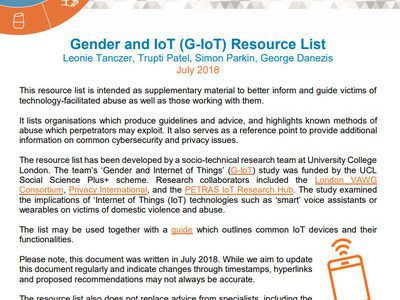 Recently, CE Pro highlighted an ongoing issue with IoT and smart home technology: For those with an evil slant (think domestic partners and exes), they can remotely control door locks, cameras, and lights in a cutting-edge version of domestic abuse hitherto unknown by society.
Enter University College London (UCL). The school recently released a resource list for smart home and smart device owners who want to stay informed and perhaps assuage any worries related to their adoption of the latest technology. The list will be continually updated as more web pages are dedicated to tech abuse awareness, but here are several of the helpful links listed today.
IoT Advice and Resources
Technology Safety is a blog managed by the Safety Net Project at the National Network to End Domestic Violence (NNEDV) and focuses on technology, privacy, and safety in the context of intimate partner violence, sexual assault, and violence against women. It also provides safety toolkits to aid victims.
Shodan, the famous IP-crawling site, is a search engine allowing users to check devices (including webcams, routers, servers) connected to the internet using different filters. The site allows users to check for vulnerable IoT systems, including smart video cameras.
eSafety Women is a UCL recommended website produced by the Australian Government's Office of the eSafety Commissioner. The website covers a lot of different content and includes an interactive infographic to help the public understand IoT systems.
Digital Security for Women
Tech vs Abuse is a collaborative research study highlighting the digital tools available to smart home/IoT users to support those affected by domestic abuse.
DIY Cybersecurity for Domestic Violence is a guide created by Hack Blossom, an "activists and artists platform that works on digital rights." The guide explores threat scenarios and offers recommendations on how to resist a controlling partner.
Take Back the Tech is a global campaign designed to connect the issue of violence against women with emerging technologies and provides safety roadmaps, information on cyberstalking, blackmail, and hate speech.
Gender and Tech is a website by Tactical Tech that links to conferences and workshops, as well as tutorials.
Cyberwomen is a "digital security curriculum with a gender perspective geared towards those who want to train others on digital security," according to its website. The resource covers topics such as passwords, viruses, and safe browsing, among others.
XYZ is a site designed to highlight practical tools to navigate digital security and privacy (from a gender perspective). "It is a space to learn from other women, inspire one another and co-create," the site says.
Access Now is a 24-hour helpline designed to work with individuals and organizations around the world to provide both advice on how to advance digital security practices as well as rapid-response emergency assistance.
To see the full list of resources, including child-specific resources, click here.