Verity Audio Demos Lakme´ Loudspeakers at High End 2019 Show
Lakme´ loudspeakers form Verity Audio features floor isolation system, flexible placement options.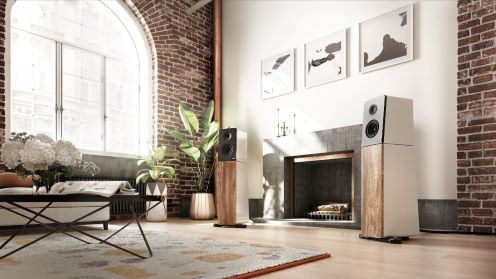 Ready to debut a new speaker design at the High End 2019 audio show in Munich is Verity Audio. The company has taken its unique floor isolation system inspired from its MASIS technology (Mechanical & Airborne Sound Isolation System) and applied it to the Lakme´ series. The speakers will be demonstrated at the show with a Verity Audio DAC and Verity Audio AMP-45 power amplifier.
The isolation system features a flexible tripod configuration to facilitate easy leveling of the loudspeakers.
Verity says the three adjustable feet are floor-protected so that there's no risk of scratching the floor as the speakers are placed and adjusted to meet a wide spectrum of room acoustics and configurations.
Verity Audio designed the Lakme´ speakers to provide options for dealers looking for middle ground between the company's Verity Finn and Otello.
For the Lakme´ line of loudspeakers, Verity Audio opted to employ a dual-passive radiator topology for dynamic range and air velocity for a high-quality listening experience in small to average size rooms.
Read Next: Paradigm, Anthem and MartinLogan Demo Audio Products at High End 2019 Show
The Lakme´ speaker's driver complement includes Verity's soft ring-dome tweeter for extended resonance-free high-frequency reproduction, custom-made midrange driver for break-up free natural midrange and a combination of custom-made woofer and dual passive radiators for fast and precise bass.
The Lakme´ loudspeakers are available in either a black or white satin lacquer finish with a complementary high-gloss balk or white woofer front panel.
Breakdown of Features
Modern design
Three-way bass reflex with two passive radiators
Easy to place in any room
High performance for hours of listening without fatigue
Satin white or black finish with high-gloss white or black decorative front panel
On occasion, Verity will offer a limited quantity of decorative plates for greater cosmetic appeal
Aluminum tripod with adjustable, scratch-resistant feet for flexible placement