Torus Power PowerBlock PB 10 Now Available
Torus says its new Compact PowerBlock units offer significantly improved A/V performance and protection at an affordable price.
Press Release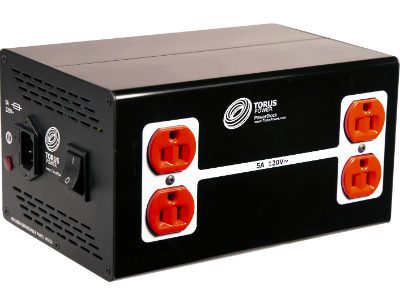 Torus Power's latest addition to the company's PowerBlock Series, the PB 10 toroidal isolation transformer, is shipping now and will be demonstrated at CEDIA Expo September 10-14 in booth 2533.
"The benefits of completely isolating the power supply from any system—from small media rooms to large commercial installations—are undeniable, offering improvements to audio and video that you can hear and see," says Kevin Main, COO and President of Torus Power.
"With the PowerBlock Series low price point and small footprint, we are bringing toroidal isolation to more applications. We are excited that both the PB 10 is now shipping and ready to start making a difference in small to mid-sized systems across the country."
Featuring a compact footprint and rugged construction, the PB 10 is designed for mid-power A/V systems, and uses two toroidal transformers to isolate digital and analog components in the system. Designed for residential and light commercial applications, the PB 10 is perfect for projects where performance truly matters.
The PB 10 includes some of the very best of Torus Power technology. Surge suppression and noise-filtering through proprietary narrow bandwidth technology (NBT) allow sophisticated audio-visual components to deliver superior performance.
Audio comes alive with a lower noise floor, better dynamics, imaging and bass, and video is notably crisper with brighter colors, deeper blacks, and a more compelling overall image.
Read Next: Why Dennis Erskine Turned to Torus to Power the CEDIA HQ Reference Home Theater
PB 10 PowerBlock unit uses two 5-amp Torus Power toroidal isolation transformers to physically decouple the equipment from the power supply, delivering a lower noise floor and cleaner power for sophisticated A/V systems.
The PowerBlock PB 10 allows users to separate source components from power components or switched-mode power supplies from linear power supplies for a cleaner signal, resulting in an enhanced audio-video experience. PB 10 models are designed for 60 Hz markets using 120V and boast a small footprint weighing just 35 lbs, making them easy to fit in residential or commercial systems.
Retailing for $1300.00 (USD), the PowerBlock PB 10 is an affordable option in the Torus Power lineup. An ultra-compact and portable toroidal isolation power transformer, the PB 10's compact footprint and rugged construction make it convenient for use in almost any situation.
It looks sharp on or near a component shelf, or on any floor surface. It can also be located in a nearby equipment rack or closet if space is at a premium. Contact Torus Power for special mounting requirements.
The PowerBlock Series of toroidal isolation transformers will be on display at CEDIA Expo, booth 2533.