Take a Look at What Torus Power Showed Off at High-End Munich 2019
Torus Power showed off its AVR and RM Series toroidal isolation transformers during High-End Munich this year.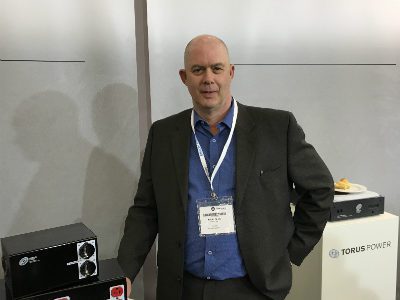 Torus Power, maker of isolation-transformer-based power components, showcased its AVR and RM Series toroidal isolation transformers during High-End Munich this year.
High-End Munich brought together A/V integrators, trade professionals, manufacturers, and consumers to showcase and experience the best in audiovisual technology for residential and consumer applications.
There, the AV EMEA team presented the Torus Power RM 8 / 16 CE, and AVR 8 / 16 CE, demonstrating the benefits of isolation transformers in two-channel listening environments, media rooms, home theaters, recording studios and anywhere that performance matters.
With the proliferation of high-resolution audio and 4K video content, every component in a system should be designed and specified to elicit the maximum performance for an exemplary, immersive media experience. Torus Power provides these systems both the power and protection they need to perform optimally.
Torus Power toroidal isolation power transformers decouple electronic components from the power source to eliminate transients and improve audio quality by dramatically lowering the noise floor while adding better dynamics, imaging, and bass.
Video is noticeably crisper with brighter colors, deeper blacks, better contrast, and a more captivating overall image. Connected components are additionally protected from surges, spikes, and brownouts, ensuring systems continue to perform as intended despite unstable power conditions often caused by a variable grid.
RM Series Ideal for Luxury Residential A/V Applications
Ideal for high-end audio systems, home theaters, and media rooms, the original Torus Power models in the RM series lineup, including the popular RM 16 CE, remain unparalleled for performance, protection, and value.
Read Next: 10 Ostentatious Loudspeakers from 2019 High End Munich Audio Show
Packed with Torus Power's renowned and category-leading technology, including noise filtering, high-instantaneous current capability, lightning, and surge protection, the RM 16 CE delivers power and protection suitable for most residential applications. The smaller RM 8 CE is ideal for use in mid-size and smaller systems.
AVR Series Provides Optimal Protection Against a Variable Grid
The Torus Power AVR Series, including the AVR 8 CE and AVR 16 CE, offer Torus Power's Automatic Voltage Regulation technology to protect equipment from surges, spikes, brownouts, and other events caused by a variable grid. They also deliver a stable source of power regardless of outside line conditions for the very best A/V performance.
Connected equipment is kept within the optimal operating range of 170V–270V. Ethernet connectivity and an RS232 interface make AVR models ideal for basic home monitoring applications.