Each year we assemble a list of trends that represent big opportunities for CE pros, and present them in our annual State of the Industry Report. Here are the Top 5 Home Technology Opportunities for 2013.
---
Enterprise Grade Home Networks: No Longer Just an Attachment Sale
By Julie Jacobson
Most CE pros install home networks as an obligatory piece of an integrated solution, but now integrators are turning these systems into profit centers.
The secret is in selling enterprise-grade networking gear, the likes of which are found in office buildings and other commercial properties where videoconferencing, high security and fast Internet are required. The products are profitable and offer a slew of benefits that integrators are just now recognizing … or should be:
They enhance the network significantly, both in wired and wireless performance. More and more products are being attached to the home network – IP cameras, home automation systems, streaming media and more – threatening the entire ecosystem without a strong IP infrastructure in place.
They offer a host of remote access and management capabilities.
They provide a variety of options for security.
Bjorn Jensen, principal of WhyReboot in Miami, provides network consulting and integration services to dealers. He says his business has been booming even during the housing crunch because "people that require a commercial-grade network were the ones that weren't necessarily hurt as much as everybody else."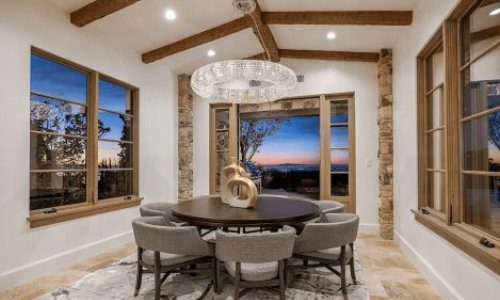 As a custom integrator, lighting is in demand. Effective communication, education and showcasing the value proposition of LED light fixtures in conjunction with integrative control systems are the keys to overcoming challenges and closing sales in this specialized market. Join us as we discuss the future of digital lighting and control with David Warfel from Light Can Help You and Patrick Laidlaw and Mark Moody from AiSPIRE.
Register Now! 
But robust networks aren't just for high-end home systems anymore.
"As the general population, including integrators, begins to realize that everything they do now depends on a reliable network, we think we'll be in high demand for quite some time," Jensen says.
Selling the Systems
While most integrators would agree that a commercial-grade networking ecosystem is highly beneficial to a whole-house A/V and automation system, they often have a tough time selling it when consumer-grade routers and access points can be had for less than $100.
Their high-end counterparts may be five to ten times that amount, and maybe even more. Since consumers have been fine with good-enough networks for all these years, it may be hard to nudge them into higher-priced products.
CE Pro 100 integrator Michael Pope of Audio Video Interiors in Middleburg Heights, Ohio, pushes the sale by installing high-end networking gear for free. If a client doesn't see a "dramatic improvement" in network performance, the company will swap out the good stuff.
While brands such as Pakedge, Luxul and Access Networks used to be some of the only network product and service providers at CEDIA Expo, the 2012 event showcased a slew of high-end gear from new and legacy vendors.
Furthermore, we saw at the Expo numerous new entries into the remote network management category providing new opportunities for recurring revenue and quality service without truck rolls.
In addition, the Expo was the launching pad of the organization's new Residential Networking Specialist Credential.
CE Pros and Home Networking
Some 75 percent of CE pros include networking products in their installs – more than they do remote controls and racks/mounts.
Streaming media/cloud content was the No. 3 category for growth potential for CE pros in 2012, just behind CCTV and multiroom audio.
In a straw poll of CE Pro 100 Summit attendees, 37 percent of respondents cited network-dependent technologies like HDMI over IP, IP cameras and streaming media as exciting technologies on the horizon.
In the CE Pro 100 Summit survey, the "cloud" was mentioned by 12 percent of respondents for everything from "cloud-based content" to "cloud-based IP control systems" to "cloud-based services."
---
Headphones: Surging in Popularity
By Robert Archer
Ten years ago it seemed unfathomable that consumer audio's shining star could be the headphone category. But Apple and Google's success in the MP3 and smartphone markets over the past decade have helped to drive a boom in headphone sales no one could have predicted.
Headphone manufacturers have taken advantage of a market that was hungry for substance and style, and traditional loudspeaker companies have gotten on board too, responding to the public's demand by designing a new wave of products that look and sound great.
As MP3-player sales wane, the portable media torch has been passed to tablets. Led by the iPad, as well as a host of Android products from companies like Samsung, Sony and ViewSonic – as well as Microsoft's new Surface – tablet products offer the promise of a multimedia experience that ultimately requires headphones for a vast majority of applications.
"We believe that with the tremendous growth of products like [Android] tablets and iPads, the headphone market has nowhere to go but up," says Mark Aling, senior marketing director for Paradigm, Anthem and MartinLogan.
The Numbers Say It All
To put in perspective the influence tablets are having on the headphone market, consider that Apple says it sold more than 5 million iPhone 5 units during the product's first weekend of availability last September and more than 3 million fourth-generation iPads and iPad minis the first three days after both products were released last November.
According to the Recording Industry Association of America (RIAA), album downloads grew from 76 million units in 2009 to 85 million units in 2010 and to 104 million units in 2011. In addition, a ZDNet report published before the 2012 holiday season cited Steve Koenig, the director of industry analysis for the Consumer Electronics Association (CEA), saying he expected headphone sales to grow by approximately 10 percent during the annual shopping season.
Aling says that just as the audio market has evolved to embrace digital audio, streaming media and portable devices, the specialty home audio market must adapt to remain relevant. He recalls that it wasn't long ago that professional installers and specialty retailers focused on traditional speakers and architectural speaker solutions, but now people are listening to audio in so many new ways.
"Keep in mind – the new generation [of audio consumers] listens to music almost exclusively through portable formats," Aling says. "We are keenly aware that part of Paradigm's responsibility is to teach new listeners that good sound matters."
Showing just how broad the appeal of headphones are, the CE Pro 100 Brand Analysis indicates that 60 percent of America's highest grossing electronics installation companies offer headphones. Not surprisingly, the brands they rely upon are high-performance solutions like Sennheiser and Bowers & Wilkins (B&W).
Aling believes traditional audio manufacturers will continue to adjust to the headphone market.
"Obviously there is a learning curve involved in designing products for the headphone market," he says. "However, good sound is good sound, period."
---
Wireless Audio: Big Growth from Old Category
By Julie Jacobson
2013 promises to be a breakout year for wireless audio in the custom installation channel. The category is a relatively old one, but it hasn't really caught on among professional integrators.
For more than a decade, Sonos has dominated the channel with high-quality, easy-to-use wireless multiroom audio systems. The category only grew stronger since the housing bust, with more integrators moving into the retrofit market. More than one dealer has intimated that "Sonos saved my business."
In 2012, more integrators (38 percent) used Sonos products in the past two years than any other multiroom audio system, including the most popular hardwired brands. Furthermore, 18 percent of integrators said Sonos was their most frequently used brand of multiroom audio, topping the charts of the CE Pro research.
During CEDIA Expo 2012, virtually every major brand in home audio demonstrated some type of wireless solution, both for home theater and multiroom applications. Our channel now sees wireless in places it hasn't gone before: in-wall speakers (WASP audio), commercial (Eos), voice-controlled systems (Voco), outdoor speakers and high-end DACs, just to name a few.
One of the most anticipated products of the year comes from NuVo Technologies, which is now shipping a multizone solution that includes amplifiers and a tablet interface.
NuVo president David Rodarte says newer technologies have spurred the rash of new offerings in wireless audio, especially high-performance solutions tailored to the custom channel.
"We certainly didn't have the tools to draw upon the last couple of years," he says. "How do you get the audio synchronized? How do you get it packetized?"
But it isn't just the newer technologies that are making wireless audio palatable – indeed, desirable – for integrators and their customers.
"I really think it's a lot more about access to content," Rodarte says. "The content has changed: streaming content, mobile content, cloud-based …. The delivery system is key."
He also suggests that a move to more decentralized music systems – versus homerun centralized products – has been a "key driver" for wireless audio.
There's yet another compelling case for wireless audio: AirPlay. Custom-friendly manufacturers from Russound to Crestron are building the Apple technology into their speakers and sources, and mass-market products abound, making AirPlay a household name for virtually any Apple adopter. Other key players in the category include Proficient and Monster.
Selling Wireless 'by the Tons'
Elite Media Solutions, a relatively high-end integration firm in Wellesley Hills, mass., has thrived on sonos for years.
"We literally buy them by the tons," says Elite field manager Frederick Paradis.
Now the company is making room for tons more business in wireless audio, thanks to the introduction of NuVo's new Wireless Audio system, which can be more easily integrated into a whole-house entertainment and automation system. Previously, the company kluged together an Autonomic mirage media server with wireless squeezebox devices for retrofit applications.
Unlike many integration companies that shy away from wireless audio, Paradis says Elite is "not at all" reluctant to spec such products. in fact, he says, the company enjoys additional profits from sales of robust networking solutions that stabilize wireless audio.
---
Motorized Shades: Lower Prices, Greater Varieties, Energy Savings Could Spur Sales
By Julie Jacobson
During the most recent CE Pro 100 Summit in November 2012 dealers discussed in roundtables the next great opportunities for their businesses. One integrator had only two words to say: motorized shades.
Motorized shades are nothing new, but many in the CE pro channel are only just embracing the category, while others are placing an increased focus on it. That's because new vendors, new technologies, retrofit solutions, energy savings and lower product costs have opened new doors.
One of the biggest new opportunities of 2012 came from Lutron, which introduced its lowest-cost shading product ever, in a category that typically commands high prices. The company's Sivoia QS Wireless Cellular battery-powered shades start at just $299 for a 3- by 5-foot window.
"Motorized shades are seeing a slight resurgence with us because of Lutron's lower-priced entries into the market, coupled with the Ra 2 connectivity," says James Goodrich of Honolulu-based Cine Life, referring to Lutron's RadioRa2 home control system. "They're simple to install and simple to operate, at a reasonable price point."
Competitor Somfy is seeing a noticeable increase in business among traditional window-covering professionals, thanks to its new Tahoma home automation system. These dealers, in turn, are entering our channel as integrators of lighting, thermostats, motorized shades and other home technologies.
CEDIA Expo 2012 saw a record number of exhibitors in the motorized shading category including Hunter Douglas/Electronic Solutions Inc. (ESI), Mecho-Shade and QMotion. The biggest surprise, however, was Crestron Electronics, which debuted its first line of motorized shades.
"Crestron has a great new solution that is energizing dealers, designers, homeowners, etc.," says Jeff Cherun of Teatro Custom Installation, serving the Los Angeles area. "It is nice to have a one-stop solution, and now Crestron offers that."
ACQUIRING A MOTORIZED SHADE BUSINESS
Engineered Environments, a leading high-end integration firm based in Alameda, Calif., is so bullish on motorized shades that it acquired a company in the space. Principal Randy Stearns explains:

Have you been reluctant to sell motorized shades in the past?
Engineered Environments has installed motorized window treatments for years, but our success rate has been less than stellar, especially when the application moved beyond a basic roller shade with conventional pockets. We struggled with dual and oversize shades, irregular size pockets, curve tracks and more. As an industry leader, Engineered Environments is expected and accustomed to being the best. We simply weren't when it came to shades. So, in June 2011, I acquired the best motorized window treatment specialty firm in the Bay Area, Advanced Shading, and the business has taken off.

What prompted you to push this category more?
Motorized window treatments is an industry sector that is growing and gross margins remain strong.

What has changed in the marketplace that makes motorized shades more appealing to integrators?
The product offering continues to improve with quieter motors, wireless options, app-based control, and expanded fabric selection.

Why is it becoming a more compelling product for consumers?
Some seek the energy-saving benefits derived from preventing solar gain in the summer and creating solar gain in the winter through the automated opening/closing of sun shades based on sunlight and indoor/outdoor temperature differentials.

---
4K Ultra HD TV: New Platform Could Bring Profits Back to Video
By Julie Jacobson
When was the last time integrators got excited about TVs? Not when manufacturers came out with 3D and not when they came out with smart TVs. You probably have to go way back to the advent of 1080p TVs when the story was all about image quality.
Today, the most exciting thing in displays is again image quality and resolution. Welcome to 4K Ultra HD – so called because it has almost 4,000 lines of resolution (3,840 by 2,160) and offers four times the resolution of 1080p.
The topic drew 70 consumers to one seminar at Bjorn's, a leading A/V and integration shop in San Antonio, Texas.
"4K? I gotta tell ya, the customers, loved it," principal Bjorn Dybdahl says. "I think we're going to get a lot of business."
Like many in the industry, Dybdahl had heard that 4K is a joke, but he says he is convinced the technology will draw traffic to his stores and he will sell a lot of pricey TVs with high margins, especially the $25,000 84-inch Sony XBR-84X900.
And the rise of 4K has an additional benefit beyond its richness and clarity: It makes otherwise obnoxious 3D images stunning, enjoyable with comfy passive glasses.
"My gut feeling is this may be a way for 3D to become more important," Dybdahl says.
Where's the Content?
Critics wonder why anyone would buy an expensive Ultra HD TV today when so little content is available. But the content is coming, slowly but surely, just as it did with 3D. Sony already has announced 10 films it is shipping free of charge with its new 4K sets and Sony spokesperson Rob Manfredo says the company is committed to releasing more content to the home.
Furthermore, the NFL is shooting one game a week with 4K cameras, and at least two TV series are filmed in 4K. And even without native 4K content TV watchers can enjoy excellent video via built-in upscaling.
Critics also balk at the high prices of 4K. The research firm IHS has said it "believes that neither consumers nor television brands will have the interest required to make the 4K LCD-TV market successful."
That's because eight million pixels only make sense for TVs 60 inches or larger, a segment which represented only 1.5 percent of total television shipments in 2012, according to IHS director Tom Morrod.
"[T]he market for 4K sets during the next few years will be limited to very wealthy consumers or to commercial uses," Morrod says.
For most CE pros, those are market segments that are often right up their alley. So what's not to love?
The 4K Ecosystem
To enjoy 4K content, you "don't have to revamp your ecosystem," says Jay Vandenbree, head of LG's U.S. Home Entertainment business. He notes that DVDs can already hold 4K and HDMI already supports 4K.
But Steve Heintz, senior product manager at Atlona gives three reasons why CE pros need to be on their toes:
Most switching equipment such as AVRs and dedicated switchers currently sold don't work with 4K. Chipsets are just now coming from the manufacturers.
Cables that were tested to 1080i won't work. You'll need true HDMI-certified High Speed cables.
Most extenders won't work. HDBaseT extenders should work. But since there isn't any equipment out there, compatibility hasn't been tested.
Meanwhile, Gefen says it is ready for 4K with new switchers, splitters and matrixes.
If you enjoyed this article and want to receive more valuable industry content like this, click here to sign up for our digital newsletters!