Often, we will revisit a previous infographic — usually from a year or more ago — and see if the new numbers reflect any interesting changes. We performed this exercise recently when an infographic from November 2020 — which examined the relationship between connected lock sales and the age of the purchaser — showed a noticeable shift: the 65+ group had made a quantum leap from 16% in the previous survey to a whopping 29%.
Sometimes, however, this exercise reveals that while there has been some shift in some areas of purchasing behavior, it's not as dramatic as we might have thought. While perhaps not as interesting from a statistics perspective, it nonetheless helps provide the smart home or smart lock dealer with information that reinforces a purchasing approach they may already be using.
With that as a backdrop, we went back and examined the infographic from September of 2020, entitled "Connected Electronic Locks: Purchased by Household Size." (As always, it was one in an ongoing series of infographics produced from information provided by TraQline, a company enlisted by lock manufacturer Kwikset to track purchasing habits and patterns.)
For the four quarters ending March 2020, the most frequent connected electronic lock purchasers were two-member households, at 39%. One- , four-, and three-member households checked in at 18%, 17%, and 16%, respectively, with 5+-member households last at 10%.
Flash forward to September 2021. Two-member households retained the top spot, at 36.7%, a minor drop-off from the previous 39%. However, three-member households escalated from fourth to second place, with a 20.1% score, up from 16%. Conversely, one-person households, previously in the second position, lost a little over 4 points, from 18% to 13.9%, falling into fourth place. Essentially, three-member and one-member households switched places.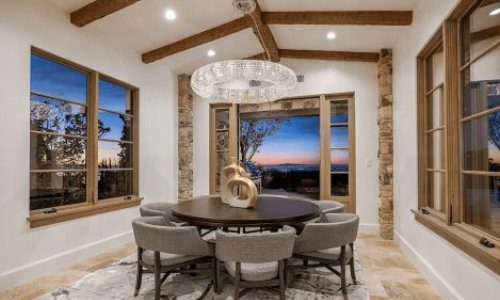 As a custom integrator, lighting is in demand. Effective communication, education and showcasing the value proposition of LED light fixtures in conjunction with integrative control systems are the keys to overcoming challenges and closing sales in this specialized market. Join us as we discuss the future of digital lighting and control with David Warfel from Light Can Help You and Patrick Laidlaw and Mark Moody from AiSPIRE.
Register Now! 
This infographic tells us a lot about what has changed — and what hasn't — in terms of buying trends of connected electronic locks related to number of people in the household.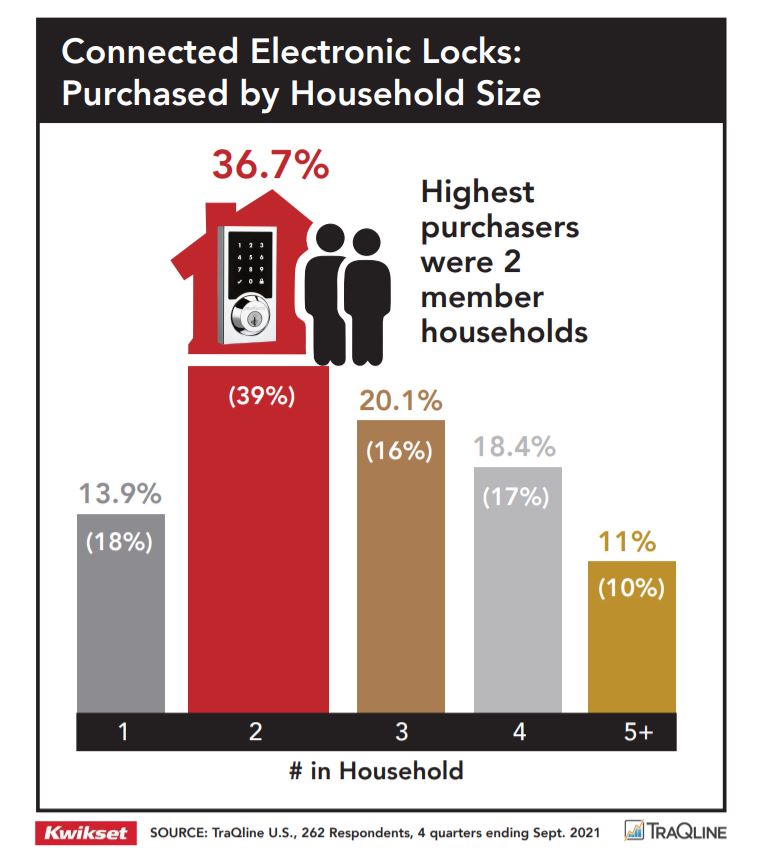 First, it tells us that, despite a very minor drop in its percentage, two-member households continue to blow away all of the other categories at a substantial rate. The two-member percentage of 36.7% is still almost double the next highest rate (for three-member households).
Why is that? Do two-member households have more time to think about things like security, given that they don't have the distractions and responsibilities that come with caring for other family members, especially children?
Does it mean that they have more disposable income and can afford the extra cost associated with a connected smart lock? It's hard to know, but one thing is certain — two-person households are dominating smart locks sales, and dealers should remain aware of this fact.
What about the change of position between three-member and one-member households? Two notable observations emerge:
The difference between the two groups is wider than it might look at first glance. One-member households previously held just a two-point lead over three members. But although the difference is now a little over 6%, the shift that occurred between the two groups is a more substantial 8.2%.
While there is no definitive way to explain the increase in three-member households buying connected electronic locks, one might assume that an increase in awareness about these products has influenced some parents with one child to be more invested in improving their overall security regimen. (We know that a first child results in far more household changes than subsequent children). Even if it's not a child — perhaps it's an elderly family member who has moved in — the dynamic of protecting a new addition to the family often spurs homeowners to enhance security.
As always, the key question is, what is the takeaway for the dealer? There are really two:
The increase in three-member households purchasing connected electronic locks is notable, especially vis a vis the drop in one-member households and thus worthy of attention.
The bigger takeaway is that dealers should be constantly revisiting consumer purchasing behaviors and statistics. The ones that change dramatically reveal important shifts that the dealer should take note of. But even when there are no significant changes — or no changes at all — that's telling the dealer something valuable as well.
---
Art Sesnovich is a principal and co-founder of Bulldog Communications.
A version of this article originally appeared on our sister publication Security Sales & Integration's website.
If you enjoyed this article and want to receive more valuable industry content like this, click here to sign up for our digital newsletters!