TechLogix Media over Fiber Optics Line Designed to Simplify Fiber Installations
Expanding its product line, the TechLogix Media over Fiber Optics line now provides integrators with a wider choice of bulk cabling products and accessories.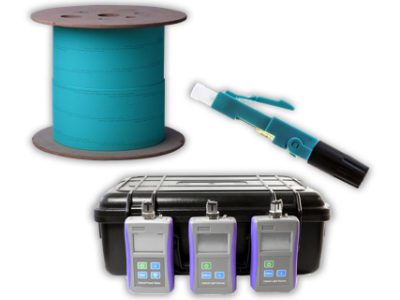 Adding more products to its range of fiber solutions, the TechLogix Media over Fiber Optics line of products is now available to professional integrators.
TechLogix says the expansion of its Media over Fiber Optics line supports a complete range of A/V applications for both commercial and residential systems.
"We're increasingly seeing systems migrate towards fiber, and we're consistently asked for complete end-to-end solutions," notes Cameron Smith, CEO of TechLogix.
"There's a lot of confusion surrounding fiber formats and TechLogix's goal is to simplify the design, specification and installation process for the integrator."
TechLogix Media over Fiber Products Offer System Flexibility
TechLogix states that its Media over Fiber Optics system features a range of products, including riser-rated OM3 multimode fiber, plenum-rated OM3 multimode fiber, LC- and SC-style connectors, termination kits, fiber-test kits, converters, switchers, and room kits.
All of the Media over Fiber Optics products are compatible with the company's existing selection of HDMI extenders, USB extenders, DVI extenders, and A/V over IP distribution systems.
Related: Copper vs. Fiber: Don't be a Scaredy Cat
The Madison, Wisconsin based company also points out the Media over Fiber Optic product line utilizes SSF technology to help streamline the installation process. Explaining the benefits of the SSF technology, TechLogix says that unlike traditional fiber products, which can be brittle and difficult to handle in the field, fiber products that employ SSF technology offer a 220-pound pull rating, micro-bend radius, and a polymer coating to help ensure the cables' integrity and durability.
TechLogix adds that all of its products are compatible with other manufacturers' fiber cabling products to provide integrators as much flexibility as possible when designing and installing fiber-cabling infrastructures.