Sonos Posts Record-Breaking Sales; Stock Rises and Falls
Sonos reports annual sales of $1.137B, up 15%, with Q4 2018 sales of $273M, up 27%. Smart home wireless audio company attributes IKEA and direct online sales as growth factors.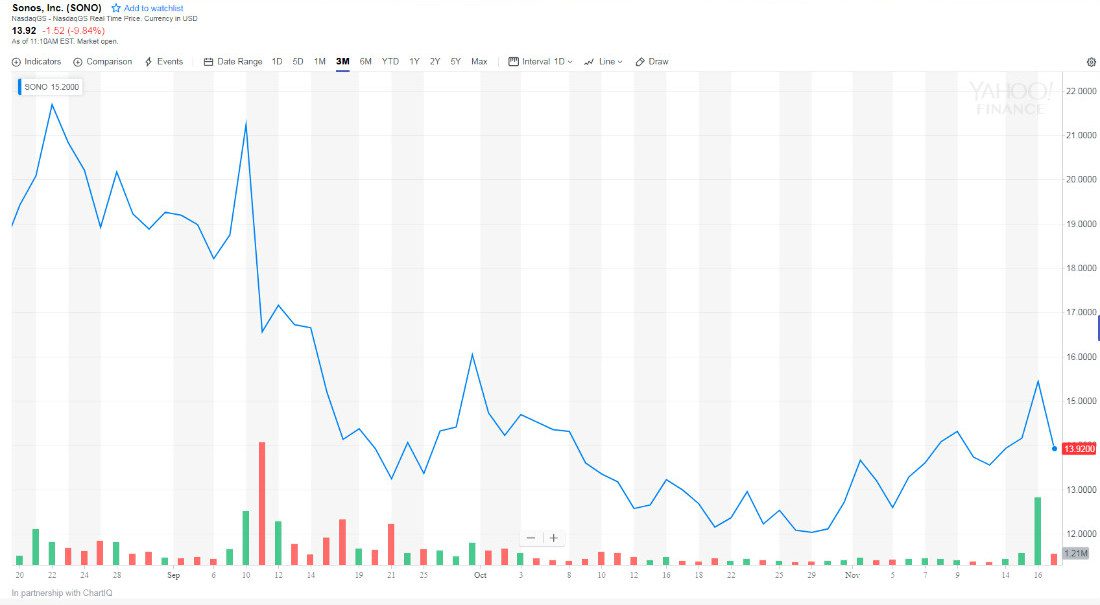 Since going public, whole-house wirelss audio company Sonos (Nasdaq: SONO) has been on a rollercoaster ride. And after posting its record-breaking Q4 sales of $273 million, up 27 percent year over year, and forecasting strong 2019 sales, the company's stock is on the move again.
For the quarter, Sonos also reported EBITDA of $20 million, up 343 percent from last year's Q4. The company narrowed its quarterly net loss to $1.4 million.
For the full fiscal year 2018, the company had revenues of $1.137 billion, up 15 percent from fiscal year 2017. EBIDTA for the full year was $69 million, up 24 percent. The company reported a full-year net loss of $15.6 million.
Overall, Sonos speakers are now in 7.4 million homes. For the quarter, the company added 1.5 million more homes than in the previous year, representing a 21 percent growth. In all, Sonos sold more than 5 million products in FY 2018, up 29 percent.
"Beam has been our most successful product launch to-date. In just a few short months, Beam rocketed to the top of the charts."
— Patrick Spence, Sonos
For 2019, Sonos expects annual revenue in the range of $1.25 billion to $1.275 billion or 10 percent to 12 percent year-over-year growth, with an EBITDA in the range of $83 million to $88 million or 20 percent to 27 percent year-over-year growth.
For Q1 2019, which ends December 29, the company expects sales of $485 million to $495 million, or 3 percent to 6 percent year-over-year growth.
The stock market reacted quickly to the news, with Sonos stock rising as much as 24 percent on the day to $16.54 per share. But since then, sellers have returned and at press time the stock was back to the pre-announcement levels in the $13.70-range.
IKEA, Online Sales Are Big Growth Factors
CEO Patrick Spence cited the new Beam soundbar as one of the key initiators of the growth, along with the direct-to-consumer sales channel.
"Beam has been our most successful product launch to-date. In just a few short months, Beam rocketed to the top of the charts, earning the number one position in dollar share in the U.S. soundbar category. That's unheard of for a $400 product," he told investors.
Related: Sonos Unleashes Sonance In-Wall and Outdoor Speakers; Launches Real Dealer Program
Meanwhile, Sonos increased its direct-to-consumer online sales by 26 percent during the quarter. Spence also called out the partnership with IKEA as a notable one.
"For the first time we'll deliver an amazing sound experience without producing a 100 percent of the hardware ourselves. It's a demonstration of the flexibility and potential of the Sonos platform and an opportunity to really re-imagine sound in the home with one of the world's leaders in décor and design. Another example is Google Assistant which will be welcoming to the Sonos platform alongside the Amazon Alexa in 2019," he said.