RTI's New XP-8v Home Automation Controller Packs Most Powerful Processor Ever
An 1GHz i.MX53 processor powers new XP-8v home-automation controller from RTI, built for commercial jobs and large-scale residential installations.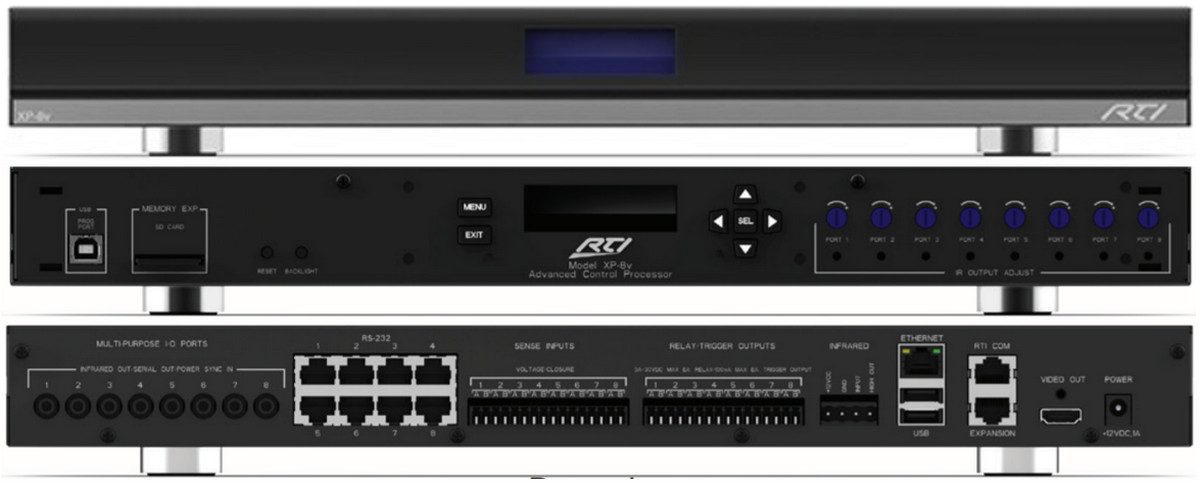 Remote-control and home-automation provider Remote Technologies Inc. (RTI) has introduced the new XP-8v Advanced Control Processor.
Introduced at CEDIA 2017, the third-generation RTI controller features a more powerful processor than its predecessors, thanks to a new i.MX53 engine from NXP. RAM has increased to 1GB and non-volatile flash memory to 512MB.
The unit includes an HDMI output for on-screen displays.
"Today's smart homes and offices feature a wide range of electronics systems—AV, climate controls, lighting, blinds, security devices and so much more," notes Mike Everett, vice president of global sales, RTI.
"For the end user, managing all of these independently can be frustrating. The XP-8v has the power to bring these separate systems into one unified platform and gives suers complete control from the interface of their choice, including RTI handheld remote and wired touchpanels, smartphones and tablets or any TV screen."
Designed to control large-scale and complex electronics systems installations, the XP-8v employs a real-time, multitasking operating system with control provisions such as two-way RS-232, routable IR, Ethernet and relay connections.
Related Content: RTI 25th Anniversary T3x Remote Control
For expanded system integration capabilities, the XP-8v also includes eight multipurpose I/O ports with support modules for voltage sensing and RS-232 control.
The Ethernet port enables IP control and support for the company's RTiPanel app for smart devices and PCs.
The Minn.-based control and automation manufacturer adds the processor's companion Integration Designer APEX 10.2 control platform enables dealers to quickly program the XP-8v with options such as an IR library and graphic resizing.
XP-8v Features & Specs (provided by RTI)
The XP-8v is a high-end remote control processor for automating the operation of electronic systems such as A/V, lighting, security and HVAC in homes and office buildings. The third generation of the popular XP-8v advanced control processor, the accelerated XP-8v kicks control into highgear with even more processing power, additional memory and an HDMI output for an OSD (on-screen-display) interface. Increased performance combined with a real time/multitasking operating system, tremendous expandability and compatibility with any RTI controller or app, make the XP-8v the perfect solution for large-scale and complex projects.
The XP-8v offers an abundance of control interface options such as two-way RS-232, routable IR, Ethernet and relay control. For expanded integration capabilities eight multi-purpose I/O ports support optional modules for voltage sensing and RS-232 control. The XP-8v also features eight programmable relay input/outputs and eight sense inputs (voltage or contact closure). Eight two-way RS-232 ports and an Ethernet port provides even more advanced control with feedback. Additionally, the XP-8v incorporates an astronomical clock, allowing for time based events and timers to trigger commands and macros. With all these interface and control options, the XP-8v provides a nearly unlimited arsenal of control capabilities.
Powerful 1GHz i.MX CPU.
512MB of non-volatile Flash memory.
HDMI output for OSD provides bidirectional control interface on a TV.
Eight two-way RS-232 ports.
Eight relays can be programmed as a contact closure or voltage trigger.
Eight multi-purpose I/O ports are compatible with industry standard IR emitters and optional RTI power sensing and communications modules.
Eight sense inputs can trigger events based on contact closure or voltage.
Astronomical clock allows time-based events.
SD/MM Card Slot for Memory Expansion.
Front panel controls/display (11 Buttons for front panel control).
All output ports incorporate both short-circuit and overload protection.
Variable IR output on all ports.
Programmed using the Integration Designer Software.*
Non-volatile Flash memory stores your system configuration even when power is not present.
Field upgradable firmware.
USB and Ethernet programming.
Input for connection of both 433MHz and 2.4GHz Zigbee RF modules.
Rack mountable or free standing.
* Integration Designer software only available to authorized RTI dealers